TimeLine : 1979
1950-1974 . 1975 . 1976 . 1977 . 1978 . 1979 . 1980 . 1981 . 1982 . 1983 . 1984 . 1985
1986 . 1987 . 1988 . 1989 . 1990 . 1991 . 1992 . 1993 . 1994 . 1995 . 1996 . 1997 . 1998 . 1999
2000 . 2001 . 2002 . 2003 . 2004 . 2005 . 2006 . 2007 . 2008 . 2009 . 2010 . 2011 . 2012 . 2013
The Horrendous Disc Years
Steve Hindalong and Tim Chandler meet at Azusa Pacific College. The two then play together in a top 40 band, Ride, where they played such gems as "Boogie Oogie Woogie", "My Sharona" and "Double Vision."
Steve: "Tim Chandler is absolutely among my all time favorite musicians... He introduced me to Derri, and Derri introduced Tim to D.A."


Alex MacDougall plays drums on "Look By Faith ", the second album from Becky Ugartechea.

Spring 1979

Daniel Amos performs in Northfield Minnesota at St. Olaf College.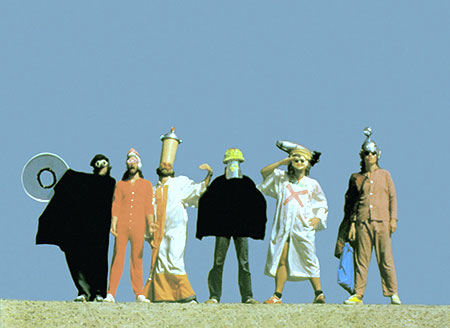 Early 1979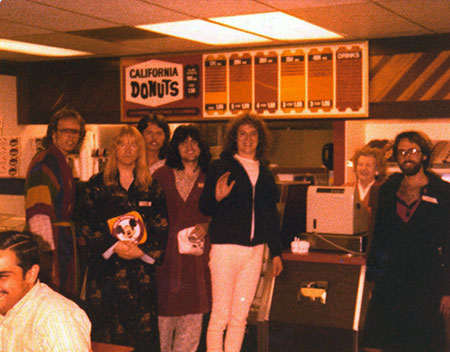 (Left to Right: Alex MacDougall, Larry Norman, Beau MacDougall, Tom Howard, Randy Stonehill & Marty Dieckmeyer. Photo courtesy of Marty Dieckmeyer)
Terry: "We had this idea, this thing we were doing at the time, called 'Preachers From Outer Space.' It was a live shtick, which included several songs, 'Mary Baker Eddy' and 'Secret Scripts In 3-D Glasses', and we had each created our own costumes for this thing. We had a pajama party one night at Alex MacDougall's and we all wore our costumes, which was hilarious. Randy was there, Larry, Tom Howard, all of us. We had our pajamas on and went to 7-11's and things like that, and had sort of a weird, strange night. Well, Larry lost it, he thought it was the funniest thing he'd ever seen. When we did Horrendous Disc he asked to take some pictures of us in our costumes. We said 'we're not using those for the album art,' and he said 'oh, no. I just want to take some pictures.' Well, they got into the album, that inside photo. That was fine, it came out great, but it was Larry's idea. And we were told it wouldn't happen. The real frustration began to grow as there were so many delays. We had nothing personal against Larry, it was just that we had recorded our record and we wanted it out." (Source: Brian Quincy Newcomb in "The HRS-Terry Taylor Interview Part One")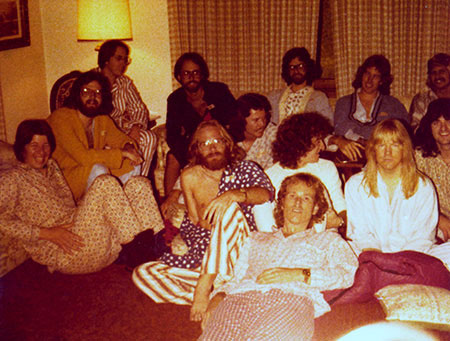 (Left to Right - back row: Ed McTaggart, Marty Dieckmeyer, Mark Cook, Terry Taylor, Roadie Dennis Baxter.
Middle Row: Kip, Jerry Chamberlain, Bill Batstone, Beau MacDougall, Randy Stonehill, Larry Norman, Tom Howard
Front Row: Alex MacDougall. Photo courtesy of Marty Dieckmeyer
January 12, 1979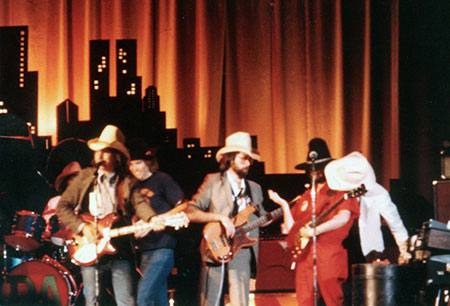 (Daniel Amos in concert, DisneyLand 1979. Photo courtesy of Marty Dieckmeyer)
Daniel Amos performs at Disneyland for Contempo '79. Other performers include Randy Stonehill and Larry Norman.

January 27, 1979

A Daniel Amos performance at Trinity Western College is canceled. (Source: TWC students cancel concert Langley Advance Newspaper January 31, 1979)

February 3, 1979

Daniel Amos performs at Calvary Chapel in Costa Mesa, CA .

April 27-28, 1979

Daniel Amos performs at the Ichthus Festival in Wilmore, KY.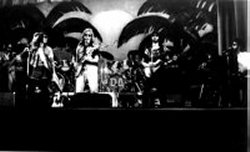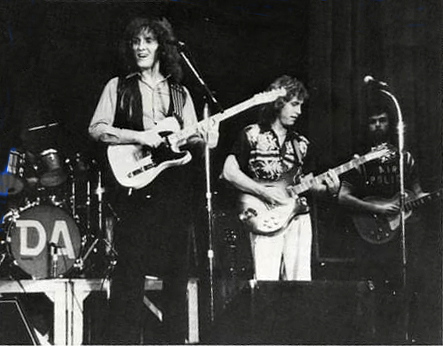 (The Amos 'n Randy Show, California 1979)

May 10, 1979

Daniel Amos performs Oil City, PA at Cranberry High School. The concert is recorded by Neal Williams and would later show up in part on the live disc, "Preachers from Outer Space".
View Set List

May 26, 1979

Daniel Amos performs at Calvary Chapel in Costa Mesa, CA .

Mid 1979


(Photo taken in San Jose, CA, courtesy of Karl Swenson)
Daniel Amos performs in San Jose, CA.

September 1979

A test pressing of Horrendous Disc was made by Word. The band took a copy of the record with them on tour in Hawaii but they did not hear the test pressing until Spring of 1980. They were surprised to find out that Word had printed the disc with an incorrect track order. The test pressing's track list is as follows: the Flying Saucer sounds, "On The Line", "Never Leave You", "I Believe In You", "(Near Sighted Girl with Approaching) Tidal Wave", "Sky King", "I Love You #19", "Man In The Moon", "Hound of Heaven", and "Horrendous Disc."
Interestingly, the test pressings version of "On The Line" is slightly longer with a slightly different fade out.
We've heard that only 20 copies of the test pressing were made - but have yet to come across any proof one way or the other. Although, we can account for nearly a dozen copies.

October 5, 1979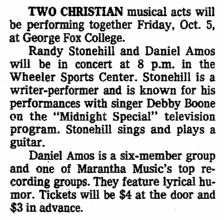 Daniel Amos performs at the Wheeler Sporst Center at George Fox College in Newberg, OR with Randy Stonehill. (Above ad from the September 29, 1979 edition of the Oregonian.)

October 16, 1979

Daniel Amos and Randy Stonehill perform at the Playhouse Theatre in Winnipeg, Manitoba, Canada.

November 10, 1979

Daniel Amos performs in Wenham, Mass. at Gordon College.

November 11, 1979

Daniel Amos performs in Farmingdale, Long Island at Farmingdale S. Univ.

November 1979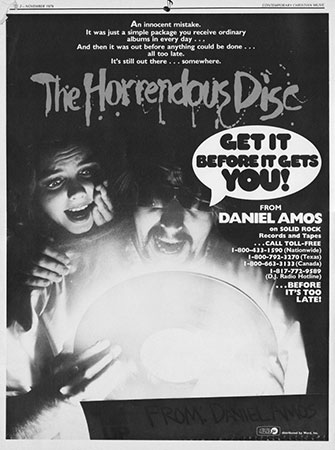 Solid Rock runs an advertisemtent for Horrendous Disc in CCM magazine.

November 12, 1979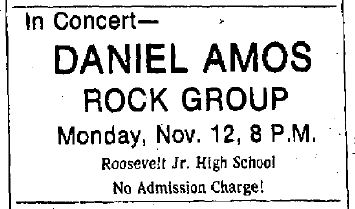 Daniel Amos performs at the Roosevelt Jr. High School in Altoona, PA. (Above ad from the November 9, 1979 edition of the Altoona Mirror.)

December 1979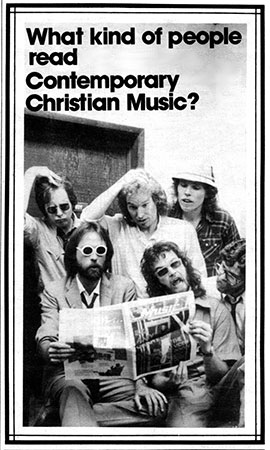 (CCM Magazine December 1979)
An advertisemtent featuring Daniel Amos appears in CCM Magazine.