TimeLine : 1978
1950-1974 . 1975 . 1976 . 1977 . 1978 . 1979 . 1980 . 1981 . 1982 . 1983 . 1984 . 1985
1986 . 1987 . 1988 . 1989 . 1990 . 1991 . 1992 . 1993 . 1994 . 1995 . 1996 . 1997 . 1998 . 1999
2000 . 2001 . 2002 . 2003 . 2004 . 2005 . 2006 . 2007 . 2008 . 2009 . 2010 . 2011 . 2012 . 2013
The Horrendous Disc Years
January 28, 1978
Daniel Amos performs at Calvary Chapel in Costa Mesa, CA .


Daniel Amos performs in Sacramento, California at the Arcade Baptist Church. The band had their plug pulled by the deacons of the church for being too "radical".(source: Karl Swenson)
Members of Daniel Amos, including Terry, Jerry, Marty, and Alex contribute to a Various Artists compliation, entitled "Come Back Soon", released on Sangre Records. Sharon McCall also performs "Too Many Reasons".

Early 1978

Alex MacDougall (percussion) officially joins DA. Alex had also played percussion on DA's first two albums.

1978-1980

"Around 1978-1980, when DA performed live, Ed McTaggart & Alex MacDougall both had drum sets, but Alex stayed mainly at the huge percussion area he had. He had some pretty strange looking home-made instruments, also. Seems like he had milk jugs, with BB's, sand, something in them. It made for an interesting evening just to watch what Alex would start hitting on next!"(Source: M.L. Brock (DADL))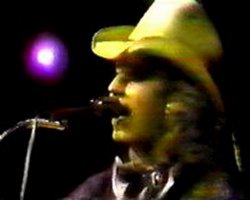 Daniel Amos performed frequently for "Maranatha Night" at Calavary Chapel.


The following unreleased songs were written during this time:
"Tonight" (Cook), "Fairy Tale" (Cook) [later released on "Shirly Goodness & Misery"], "Mary Baker Eddy" [later released on "Preachers From Outer Space], "Only One" (Taylor) [later rekeased on "Shirly Goodness & Misery], "Secret scripts & 3D glasses" (Taylor) [Later released on "Preachers from Outer Space"].
Jerry: "We were going to do an all "cult" songs album and Man In The Moon was originally supposed to be part of that. So was Mary Baker Eddy. But it never materialized. MBE just never got recorded in the studio. We have a few live versions of it, though."

March 16, 1978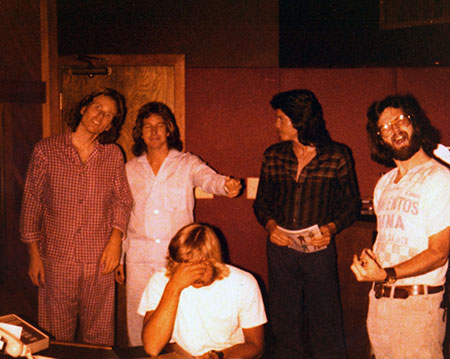 (DA at Whitefield Studios. Left to Right: Alex MacDougall, Terry, Beau MacDougall, Jerry Chamberlain. Roadie Dennis Baxter is seated in front. Photo courtesy of Marty Dieckmeyer)
The band began working on it's third album in what was then known as Maranatha Studios (now Whitefield Studios) in Santa Ana. The project was quickly finished by the summer and one bright summer day not long after, the CCM Magazine Publisher, John Styll sat in that very same studio and actually heard the Horrendous Disc in it's entirety. In fact, the band recorded more than enough for an album... and later made their final choices for the "Horrendous Disc" tracks.
Alex: "We recorded the basic tracks for Horrendous in our pajamas (seems to be a theme), and locked all visitors out (how Very rock and roll!). We even had a sign on the studio door claiming the sessions to be locked and that we were xenophobic!"
Marty: "I don't remember much but I do remember recording 'I love You #19' and 'Tidal Wave' at Whitfield Studios with Thom Roy engineering, not Mike Stone."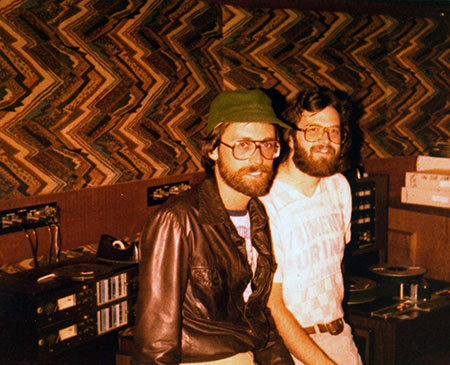 (Marty Dieckmeyer and Mark Cook at Whitefield Studios. Photo courtesy of Marty Dieckmeyer)
Mike Stone coproduced most of the songs with the band.

March 16-18, 1978

Daniel Amos performs at Swing Auditorium in San Bernadino, CA.


March 24 1978


DA performs at the Anaheim Convention Center for Calvary Chapel's "Easter Celebration". Terry, Jerry, Mark, Marty and Ed were joined by 'Bethlehem' band member Dom Franco on Steel Guitar. It was recorded by Rich Houston and Johnathan David Brown and would eventually be released on CD in 1994, entitled Preachers From Outer Space.

April 14 & 15, 1978

Daniel Amos performs two shows (one on Friday and one on Saturday) at Knotts Berry Farm in Buena Park, CA. Other performers include Darrell Mansfield, Aslan, Sweet Comfort, Erick Nelson, Isaac Air Freight and others

Mid 1978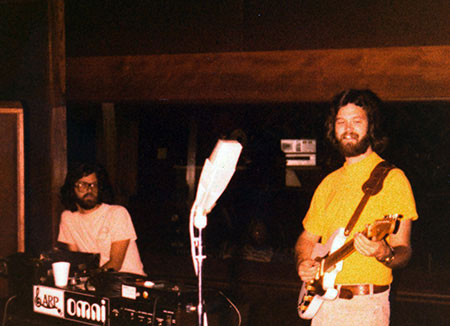 (Mark Cook & Jerry Chamberlain in Whitefield Studios, recording Horrendous Disc. Photo Courtesy of Marty Dieckmeyer)
While the band was recording Horrendous Disc for Maranatha!, Chuck Fromm set it up for DA to take the album to another label. Maranatha! was going through a time of adjustment, they were getting more into the Praise and childrens records. Daniel Amos left on good terms and with Maranatha!'s blessing.
Marty: "We had already recorded everything on HD. The only thing left to do was mix it and do the art work. After we finished all the work in the studio, we started meeting with all the different labels that showed interest in us."


There have been rumors over the years that the band nearly called it quits at this time. In reality, this was just gossip.
Terry: "There was never any consideration of disbanding. While true that we had left Maranatha! Music, we were actively seeking a new recording contract, and we were always on the road. Obviously, even having an album unreleased for several years didn't break up the band, which attests to the bands commitment..."

Fall 1978

Demos for the following songs were recorded during this time on four track in 'the old Rebel Base Rehearsal Studio': "I Need You" (later retitled "So Certain" - Taylor), "I get around" (Wilson), "You always run away from love" (Cook), "As long as I live" (Taylor), "I'm On Your Team" (Taylor), "I love you" (later retitled "I Love You #19" - Taylor). (Note: the Fall '78 demos for all but "So Certain" and "I'm On Your Team" were later released on "Preachers from Outer Space".)
Terry: "I'm On Your Team" was a song that was really kept alive by fan requests. It was one of those songs that was written during the Horrendous Disc sessions, and for some reason it didn't go on the record. It was written in response to some of the criticism that got heaped on the band in that Horrendous Disc era when we began to shed the country clothes of the first two albums. I remember the first time we performed that song, it was in Hawaii and we were there with the Calvary Chapel pastor. We were getting a little flak for what we were doing, so we included that song in every set as kind of an answer back. (Source: Brian Quincy Newcomb in "The HRS-Terry Taylor Interview Part One")
Jerry: "We gave ILY the #19 designation because Terry and I took a trip down to our local record shop and perused the yellow-paged directory of recorded music that used to perch atop the counters of major record stores in America. I remember counting the number of songs listed with the title, "I Love You". There were 18 listed at that time..."

August 1978

John Styll, publisher for CCM Magazine, received a photograph, along with an announcement of the upcoming release of the Horrendous Disc, pending negotiations. And having already heard the album, he passed the information on to his readers.

August 5, 1978

Daniel Amos performs at the Omega Center in Santa Ana, CA.

September 1978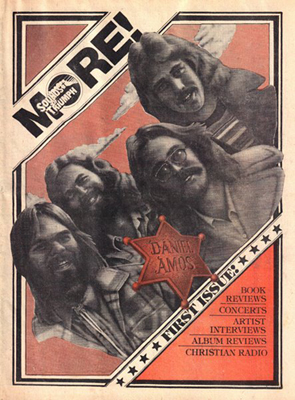 Daniel Amos appears on the cover of Sounds of Triumph Magazine. (scan courtesy of Bim Ingersoll)

September 9, 1978

The Oregonian reports that a recent DA show in the area had to be moved from the Clackamas High School to the football field to accomodate the unexpectedly large crowd.

October 5, 1978

Daniel Amos performs at the Saunders Auditorium in London, Ontario, Canada

October 6, 1978

Daniel Amos performs at the Minkler Auditorium in Toronto, Ontario, Canada

October 9, 1978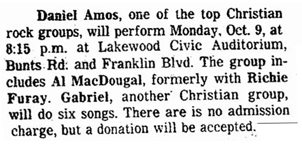 Daniel Amos performs at the Lakewood Civic Auditorium in Lakewood, OH. (Above note from the September 29, 1978 edition of the Plain Dealer)

October 1978

Ed McTaggart's third child, Nathaniel, is born.

December 1978
Although initially interested in a deal offered by Curb-Warner, DA decided not to take the contract because it turned out to be...
Ed: "a good contract, but not the kind of thing we wanted."


The band was soon signed to Street Level Productions.
Terry: "Al (Alex MacDougall) had toured with Randy Stonehill and knew Larry Norman. Al said we were getting a lot more serious about touring, what we ought to do is approach Street Level and see if they would book us. We talked to the people and they said they wanted to book us, but about a week later we were told that it had been their policy only to book Solid Rock artists. To us that was a switch, they'd changed it. So it was decided, Larry would put us on Solid Rock, and he'd go ahead and get us the secular deal, and Street Level would book us. It looked like a beautiful package, and we bought into it. We signed all the contracts, and then came the delays.
Larry: "...At the time, I really didn't think me signing Daniel Amos to the Warner Brothers/Curb contract would be the best thing spiritually for some of the members of DA." (quoted from Larry Norman's "Blue Book", although Daniel Amos turned down the Warner-Curb deal before signing with Solid Rock/Street Level)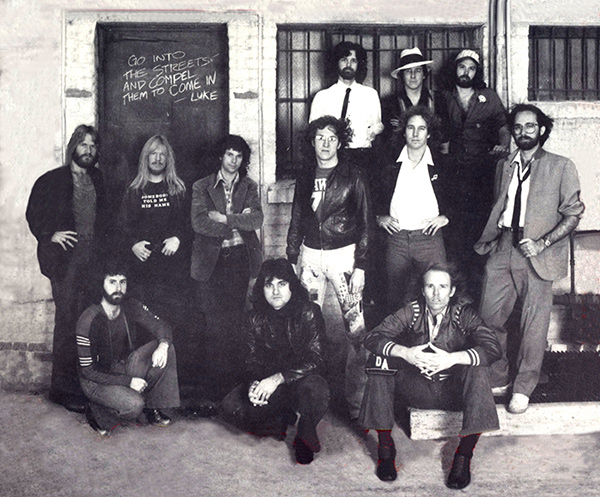 (Left to Right: Ron Salsbury , Jon Pantano, Larry Norman, Mark Heard, Tom Howard (seated), Randy Stonehill, Mark Cook, Ed McTaggart (back row), Terry Taylor, Alex MacDougal (seated), Jerry Chamberlain, and Marty Dieckmeyer.)
Late 1978-Early 1979

CCM quoted Larry Norman (March 1981, "Whatever Happened to Horrendous Disc?") as saying that he believed that the new album needed to be refined, in light of the group's "new" artistic direction. The article says that Larry suggested that two songs be dropped ("Fairy Tale" and "After All These Years"), and two should be added ("I Love You #19 and "Hound of Heaven").
Larry: "I didn't want songs similar to 'Fairy Tale' to be on Horrendous Disc, but telling a band that you don't like some of their songs can sometimes have an effect similar to telling a mother of ten that some of her children are ugly. I was determined not to release the album until it had been reassessed to include better songs which I believed would make the project more distinguished, but actually inject a stronger gospel message into the album."
Terry: "Mike Stone was the producer of Horrendous Disc the whole time. So, Larry's involvement with the record was peripheral, he had nothing to do with the recording at that time. He might remember it differently, but the truth is he had nothing to do with the recording of that record. I think Larry did step in and direct us as to where he wanted it mixed, and it was mixed by someone Larry had confidence in, but again he was not there and had nothing to do with it.
Marty: "Our intention for the album was to record more songs then needed and then pick out the ones that had the best feel and continuity with each other. So, we had a tenative order and at the last minute we changed it...
...I overheard Terry, Mark and Jerry discussing the album order. The song 'Never Leave You' (written by Mark Cook) and 'I Believe in You' were going to be dropped from our final tenative order, and 'I Love You #19' was going to be added. I wanted 'Never Leave You' and I Believe in You' on the album and after some heated discussion we ended up with 'Fairy Tale' being dropped 'I Love You #19' being added and 'Never Leave You' and 'I believe In You' remaining on. I think 'Never Leave You' was dropped after the second or third pressing anyway. They wanted each side of the album to have the same amount of running time, (or at least close to the same) and by keeping one more song (I Believe or Never Leave) would make it uneven. I didn't care about that I thought both songs were worthy of the album... We weren't quite sure which songs were going to go on the album, and I'm sure we bounced the order of the songs off Larry but, he didn't tell us what to put on the album, he kind of left that up to us. But, I specificly remember talking with Larry about not dropping 'Never Leave You'."

1978-80

While waiting for HD to come out, DA went back into the studio a number of times and recorded around 20 new songs as demos on either 4-track or 24-track, including: "So Certain", "Laisez-Faire", "UFO", "Tonight", "Twilight love" (A live version of this song was later released as a bonus track on "Our Personal Favorite World Famous Hits), "Hello Aloha", "The Wonder Is You", "Talk", "I'll Be Right Here Waiting", "Cinema Girl", "She Gets To Me", "Noelle", "Taking A Fall", and "Weather Girl".
Daniel Amos shopped many of these demos around to mainstream record companies.
(Note: "Happily Married Man" was NOT recorded at this time, as was reported in Karen Marie Platt's March 1981 CCM Article, "Whatever Happened to Horrendous Disc")


Tim Chandler and Derri Daugherty play in Dwight Thompson's band every Wednesday night on Paul & Jan Crouch's program on TBN.


Daniel Amos' first and only "News-O-Rama" is mailed out.
View NewsLetter