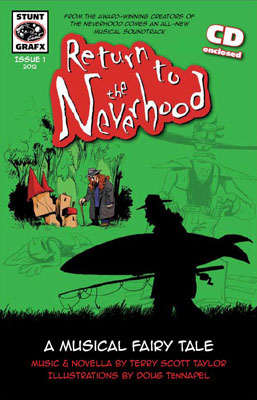 At long last! From creators Doug TenNapel and Terry Scott Taylor,
The Return to the Neverhood
features a 36 page comic book written by Taylor and illustrated by TenNapel, and a 19 track soundtrack CD of brand new music inspired by the Neverhoood!
Now Shipping!
If you are a fan of Terry's soundtracks to the Neverhood, Skullmonkeys, Boombots and other TenNapel creations, you won't want to miss this!
Watch the
Promo Video!
Click Here to ORDER NOW!
Yes, thats right. This is something that we've wanted to do for a long time and we're excited to say that it is finally here! Can't get enough DA/Eddies/Terry Taylor music to listen to? Well, we've been digging through decades of live recordings to bring you some of the best. You can find them all for download here....
http://danielamosboots.bandcamp.com
Watch for more to be added in the future!
Do you have a high quality bootleg that you think other fans might enjoy? Send us a note and make sure we know about it! (Email
eric@danielamos.com
with your bootleg info)