TimeLine : 1980
1950-1974 . 1975 . 1976 . 1977 . 1978 . 1979 . 1980 . 1981 . 1982 . 1983 . 1984 . 1985
1986 . 1987 . 1988 . 1989 . 1990 . 1991 . 1992 . 1993 . 1994 . 1995 . 1996 . 1997 . 1998 . 1999
2000 . 2001 . 2002 . 2003 . 2004 . 2005 . 2006 . 2007 . 2008 . 2009 . 2010 . 2011 . 2012 . 2013
The Horrendous Disc Years
Jerry Chamberlain marries Sharon McCall. Sharon occasionally sang with the Scratch Band, a band from Sacramento that eventually evolved into the 77s.

January 11, 1980

Daniel Amos performs in California at Disneyland for "Contempo '80".

January 20, 1980

The Rock and Religion Radio Show airs the first half of a special on DA's "Horrendous Disc", featuring an "interview" with Terry, Ed and Jerry. This was the first chance the public had to hear music from the delayed record. The show featured "I Love You #19", "I Believe In You", "Hound Of Heaven", "(Near Sighted Girl With Approaching) Tidal Wave", and "On The Line."
Read Transcript

January 20, 1980

Daniel Amos performs at Capistrano Valley Baptist Church in San Juan Capistrano, CA.

January 26, 1980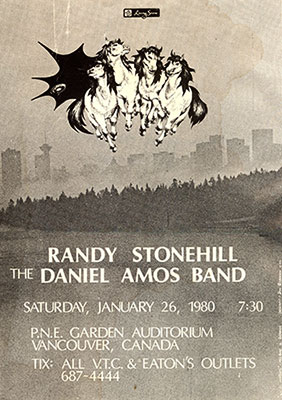 (Concert Poster Courtesy of Marty Dieckmeyer)
The Amos n'Randy Tour (Daniel Amos with Randy Stonehill) performs in Vancouver BC, at the Broadway Tabernacle.

January, 1980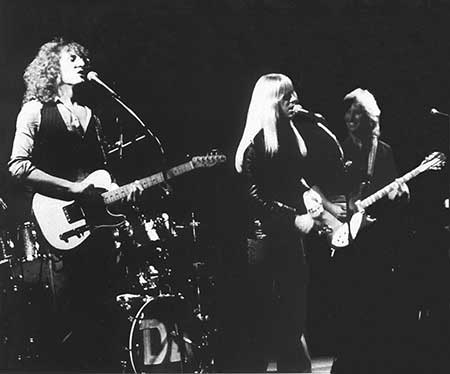 (Randy Stonehill, Larry Norman and Terry Taylor)
Daniel Amos and Randy Stonehill wrap up part of the Amos n'Randy Tour in a Toronto concert, sponsored by Sounds of Triumph. The event captured the attention of the local press and two television stations have produced features on Contemporary Christian music. At the end of the concert, StreetLevel's Phil Mangano arrived with Larry Norman in tow, and Larry was coaxed on stage for a song with the band.(Source: CCM Magazine January 1980)
Gossip and rumors were spreading about the band which were causing a lot of difficulty while touring.

Terry: "...we'd go out (to play concerts), and the rumors would precede us. People would think that we were doing everything from divorcing our wives to using cocaine, and I don't know what else. Because once there's a sense of controversy here (in the Christian Music world) the rumors just fly."

Larry Norman fed many of the rumors in the years that followed with a number of unfortunate mistatements, including the following line from an interview in CCM Magazine. This sentence led many to speculate that members of DA had left their wives in the late 70's. In reality, only three members of DA were married at the time - Terry, Ed and Mark. None of the three were getting divorced. Mark Heard and Tom Howard were also both happily married.

Larry: "My wife had decided she wanted to marry somebody else and all of the artists at the same time were leaving their wives, and I just thought this was an appropriate time for introspection.".
(Source: CCM Magazine June 1989/"The Blue Book")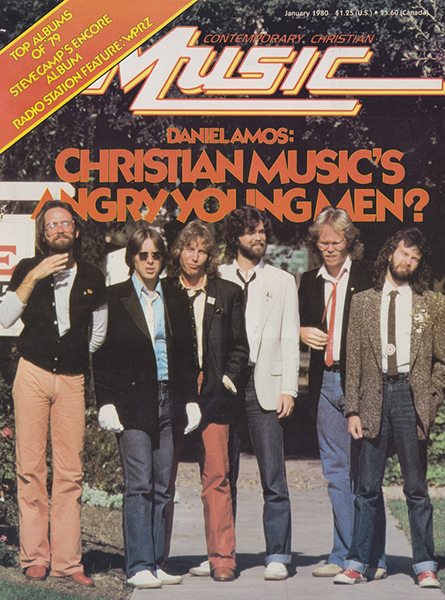 Daniel Amos appears on the cover of CCM Magazine. "Angry Young Men"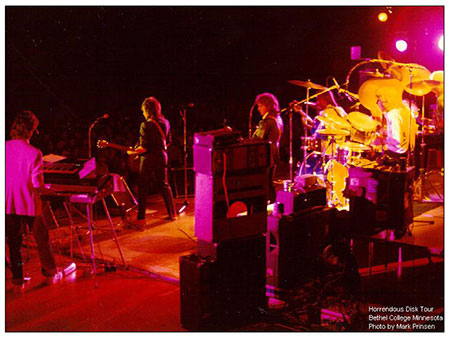 (Photo taken at Bethel College in Minnesota, courtesy of Mark Prinsen)
January 26, 1980

DA performs

February 1980

CCM magazine's "Record Rap" column says that there's still no definate release date for "Horrendous Disc".

February 6, 1980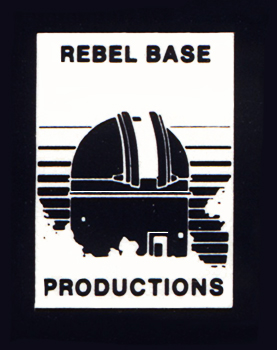 Rebel Base Productions is formed with Tom Howard.
Tom Howard: "There's a little rehearsal studio and office in Santa Ana, California that DA has been using for years. When a popular science fiction movie ("Star Wars") came out and the good guys were holed up at the "rebel base" the name drifted over to the studio and it stuck.... it's the whole idea of rebeling against a strong, powerful force of evil."

March 20, 1980

While waiting for the problems to be sorted out with HD, Daniel Amos engaged in a brief national tour. (SOURCE: CCM Magazine March 1981 "Whatever Happened To Horrendous Disc?")

March 29, 1980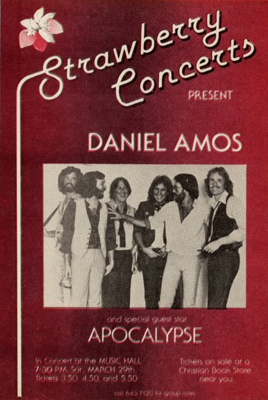 Daniel Amos performs in Houston, TX.

April 1980

CCM magazine lists several new releases, and makes note that "Horrendous Disc" isn't one of them.

April 4, 1980

Daniel Amos performs at Bethel College in Roseville Minnesota with Randy Stonehill.

April 11, 1980

Daniel Amos performs St. Paul, MN at Bethel College with Randy Stonehill.
View Set List

April 19, 1980

Daniel Amos and Randy Stonehill perform in Greenville, Illinois at the Agape music festival.

Mid May 1980

DA finishes their tour and returns to California to find a letter waiting from Larry Norman, stating that he had released them from their management contract with StreetLevel. California Civil Law states that it is illegal for the same company to receive compensation for booking and management of an artist.

Larry Norman's "Footprints in the Sand" CD (1993) included the following statement: "Everything began to unravel during a tour with one of his solo artists who was traveling with one of his bands. Larry went out on the road to personally observe what was happening. He traveled for two or three days with the artists to observe their on-the-road demeanor and was shocked by the drinking and cigar smoking and raw humor he witnessed. He was speechless and confused. Upon his return to Los Angeles he wrote letters of dismissal announcing that he felt he could no longer represent these artists."


StreetLevel Artist Agency (with Phil Mangano) splits off from StreetLevel Productions.

Mid 1980

Daniel Amos performs in Dartmouth, MA.
View Set List

Early Summer 1980

DA performs in various clubs around the country, including LA's Madame Wong's.


DA performs in Huntington Beach, CA.

Late Summer 1980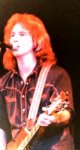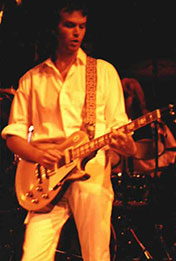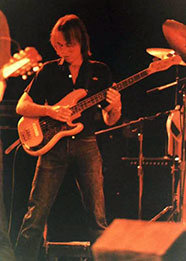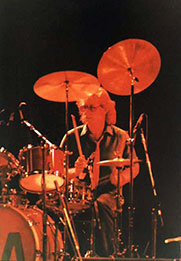 (Photos taken in Concord, CA, courtesy of Karl Swenson)
Daniel Amos performs in Concord, CA. at. The show's lineup was Chuck Girard, Resurrection Band, DA, and Servant.

July 1980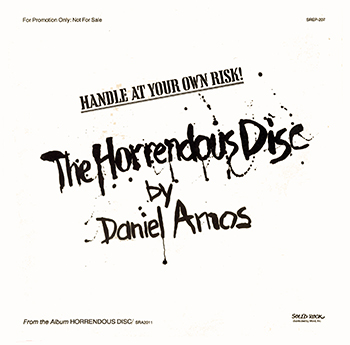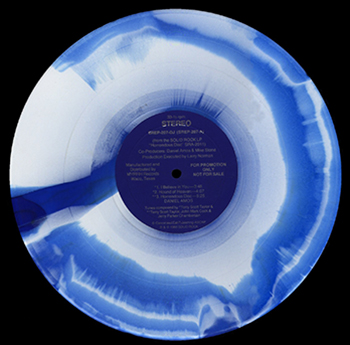 Word radio promo man "dangerous Dan" Hickling releases the 10" Horrendous Disc ep to radio stations, with Blue and White swirled vinyl. Side one (33 1/3 rpm) features I Believe In You, Hound of Heaven and Horrendous Disc. Side Two (78 rpm) has the flying saucer sounds, and On The Line.
There are also rumors that there is an alternate version of the EP. We know lots of people that claim to have seen one, or have a friend that has one - but so far, we haven't seen one ourselves. Solid Rock tells us that there's only the one version.

August 1980

DA performs at LA's Madame Wong's.

Fall 1980

Due to the "Horrendous Disc" delays, the band was struggling financially. Two members - Mark Cook and Alex MacDougall - left the group to pursue other Godly and financially supportive endeavors. Mark became a Youth Pastor in the San Diego area, and Alex started working for Ministry Resource Center and would continue to work with the band off and on. (Source: CCM Magazine March 1981 "Whatever Happened To Horrendous Disc?")
Terry: "We still love those guys, and continue to have relationships; I saw Mark a few years ago, he's a pastor in Virginia, and I still do projects for Alex at Maranatha! Music." (Source: Brian Quincy Newcomb in "The HRS-Terry Taylor Interview Part Two")

September 1980

Daniel Amos and Andy Pratt perform at R.I. College in Providence, RI.

October 20, 1980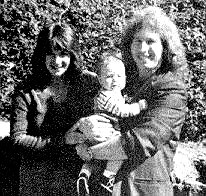 Terry's son Andrew was born.

Late 1980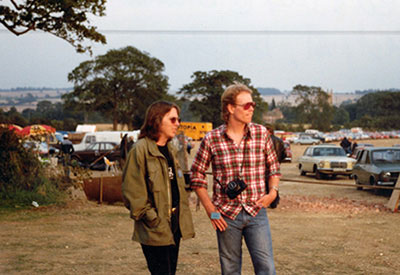 (Ed McTaggert and Alex MacDougall at Greenbelt and Alex, Tom Howard and Beau MacDougall backstage at Greenbelt. Photos courtesy of Marty Dieckmeyer)
Daniel Amos performs in England at Greenbelt.


Daniel Amos performs in Holland at the Kamperland Music Festival, with Larry Norman and the Sam Scott Band.


Daniel Amos performs in National Entertainment and Campus Activities Association Convention.






(DA Buttons)

December 8, 1980

Former Beatle John Lennon is shot and killed by a disturbed fan in New York. DA learns of the tragedy while working in the studio.
(Terry touches on this tragedy in his article "Here I Am... There You Are ("Imagine No John Lennon")"