TimeLine : 1998
1950-1974 . 1975 . 1976 . 1977 . 1978 . 1979 . 1980 . 1981 . 1982 . 1983 . 1984 . 1985
1986 . 1987 . 1988 . 1989 . 1990 . 1991 . 1992 . 1993 . 1994 . 1995 . 1996 . 1997 . 1998 . 1999
2000 . 2001 . 2002 . 2003 . 2004 . 2005 . 2006 . 2007 . 2008 . 2009 . 2010 . 2011 . 2012 . 2013
Terry composed the music for a Sony Playstation game called SkullMonkeys, the sequal to Douglas TenNapel's the NeverhoOd. Playstation Magazine called the theme music, "The best game music I've ever heard."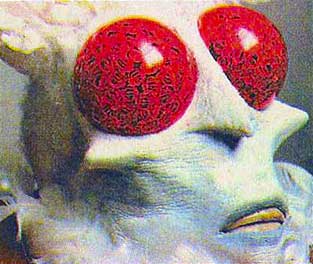 Terry also composed much of the music for an independent film called Mothman, yet another creation from Douglas TenNapel. Fellow Dog and Eddie, Gene Andrusco "Eugene" is credited as music editor. Main title theme written and performed by Terry Taylor , Incidental theme arrangements by Gene Eugene and Terry Taylor, "Annie's theme", Written and arranged by Gene Eugene, "Point Pleasent" Written by Phil Madeira and Terry Taylor, Arranged by Phil Madeira, & Performed by Phil Madeira with Gene Eugene and Terry Taylor, "Lucky Spot" Written by Terry Taylor & Performed by "The Lost Dogs" (Terry Taylor: guitar, vocals, Gene Eugene: Keyboards, Phil Madiera: guitars, dobro, and steel guitar, Angie Lorenzen: vocals, Frank Drennan: Harmonica and background vocals, & Anna Cardenas: backwards Mothman voice)
Visit the MothMan Website


Terry was credited with production assistance on The Insiderz' The Insiderz Present Skalleluia, and produced Rich Young Ruler's Rich Young Ruler. Terry also wrote, mixed and produced 12 of the songs on a various artists album called Surfonic Water Revival . He sang backing vocals and played guitar on all tracks. Terry, DA, & Lost Dogs performed one song each on it.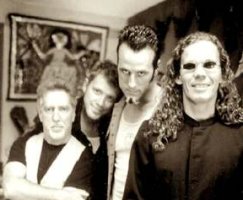 David Raven (Hort) begins working with a band called the MojoMonkeys.

April 21, 1998

Terry Taylor and Friends perform about 15 minutes at the Ace of Clubs in downtown Nashville, for GMA week. Derri Daugherty, Steve Hindalong, Phil Maderia and Chris Donahue joined Terry for the show.
View Set List

June 5, 1998

Terry cancels a show in Portland, OR.

July 2, 1998

TST & Friends perform in Bushnell, Illinois at Cornerstone.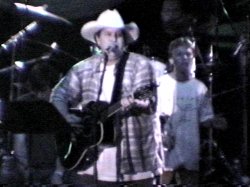 View Set List

July 4, 1998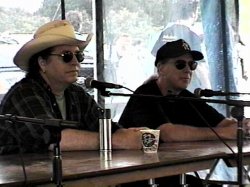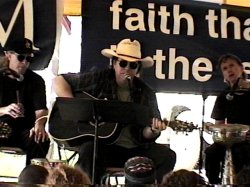 Terry Taylor and Ed McTaggart take part in a press conference in Bushnell, Illinois at Cornerstone. Later that day, TST & Friends perform an acoustic show in the Prism tent at the festival.
View Set List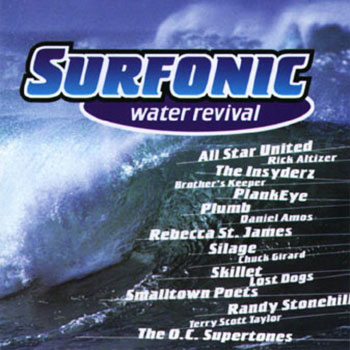 "Meat The Farm Beetles" and "Surfonic Water Revival" were also sold at the festival, although "Surfonic" wasn't released to stores until later in the year.

July-August
7-Ball magazine runs two features in it's July/August issue, one about 'Surfonic Water Revival' called 'Surfs Up' and the other an interview with Terry Taylor called 'Terry Taylor Rides a New Wave.'
Terry Taylor Rides a New Wave

October 1998

DA's Our Personal Favorite World Famous Hits is released.
Album Info
The CD's artwork was designed by Douglas TenNapel.

November 30, 1998

Terry nearly takes part in an online chat with the Daniel Amos Discussion List. Due to computer problems - the questions had to be submitted via AOL instant messanger and then the answers were posted to the chat window.
View transcript

December 1998

Terry co-produces a group out of Phoenix called "Straw Theory"

December 1998-January 1999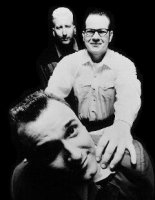 The Giovanni Audiori catalog surveys a number of bands and artists, asking them what they're favorite top 10 albums of all time are. Arthur Fhardy of the Swirling Eddies, David Raven, Rob Watson, Gene Eugene, Randy Stonehill, Phil Madeira, Ashley Cleveland, Mitch McVicker and others contribute lists. Mark Robertson, of This Train and Rich Mullins' Ragamuffin Band, includes "almost anything by Terry Taylor" on his list. Randy Stonehill names DA's "Doppelganger".
View the Complete Survey Results
Visit ThisTrain.com
Vist RandyStonehill.com