Daniel Amos
What Ever Happened To Horrendous Disc?
The Strange Unusual Saga Of Daniel Amos
by Karen Marie Platt
CCM Magazine March 1981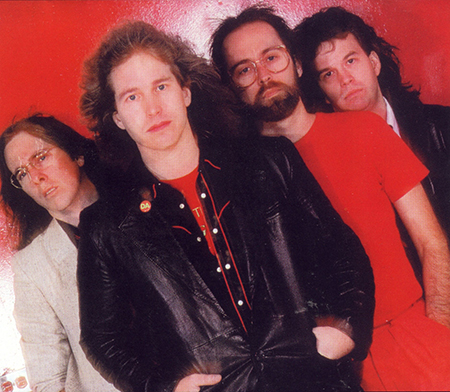 "Lord, let me be an instrument of thy peace..."
This is the saga of Daniel Amos and the long journey in search of a record. Once, this story was mostly oral tradition, and few, if any, had heard it in it's entirety. Until one day, a harried young Scribe stumbled, unawares, into it's conclusion, and instructed by the Publisher and called upon by God, having all the best intentions, the Scribe received the unlovely task of recording here the slowly revolving maelstrom of Horrendous Disc.

For the benefit of the uninitiated, our protagonist is not one, but six. Daniel Amos began as a band of southern California Christians (Steve Baxter, Jerry Chamberlain, Marty Dieckmeyer and Terry Taylor), who sat in folding chairs, played acoustic guitars, sang country music and made it's audience laugh.

Beginning it's not-so-renowned career touring the Calvary Chapel circuit, the band signed with Maranatha! Music in 1975. Between 1975 and 1978, Daniel Amos (hereafter also called D. A.) recorded two albums - Daniel Amos (1975) and Shotgun Angel (1977) - gaining a small but chosen following throughout this country. during this time it's music changed from country to country-rock, from country-rock to rock, from rock to new wave. Baxter departed for Colorado, Ed McTaggert joined up, followed by Mark Cook and Alex MacDougall.

Maranatha! Music treated D. A. well. Being one of the few non-profit record companies in Christian Music, it tenders to it's artists greater financial compassion and personal attention than most. In early 1978, the company signed a distribution pact with Word and engaged in it's pursuit of the praise album series that subsequently gained the label great repute in the international Christian community.

DA on the other hand, continued to become increasingly rock oriented. On March 16, 1978, the band began working on it's third album in what was then known as Maranatha Studios (now Whitefield Studios) in Santa Ana. The project was quickly finished, and one bright summer day not long after, the Publisher sat in that very same studio and actually heard the Horrendous Disc in it's entirety. The music was hip, almost avant-garde. The message was there, although not aggressively present and sometimes difficult to hear over the music.

Since few bands were signed with Maranatha! Music at the time and none were rockers, the vision shared by D. A. band members was anomalous in the organization. They wanted to reach the secular music audiences. They believed in themselves. They believed they could be the first contemporary Christian band to successfully break into the secular music business. (Musically speaking, they may have been right. The Publisher, also, felt enthusiastic about the new tracks.)

Feeling unsettled at Maranatha!, D. A. signed a management contract with Street Level Productions (not to be confused with Street Level Artist Agency, but more about that later) and asked it's founder, the famed Larry Norman, to build them a secular career as Christian artists. Warner-Curb displayed interest in signing the band to a record deal so D. A. notified Maranatha! of it's intent to break with the company. Of course, the tapes that provided the basis for the band's precious third album were suddenly locked deep in the recesses of Maranatha!'s vaults, to be retrieved only upon payment of monies that company already had spent on the project.

Warner-Curb offered a contract - according to band members, "a good contract, but not the kind of thing we wanted." They prayed about it and decided to change or put it off. Besides, ransom for the Horrendous hostage was not offered.

Unfortunately, like most classical heroes Daniel Amos was more confident than careful. The Publisher received a photograph, along with an announcement of the upcoming release of the Horrendous Disc, pending negotiations. And having already heard the album, he passed the information on to his readers. That was in August 1978.

In December, Daniel Amos finally turned down the Warner-Curb offer. Mike Curb had decided to run for lieutenant governor of California and some rather disconcerning news had surfaced that led all concerned to believe that close association with the Warner-Curb label might not be the thing to do at the time. Besides, says drummer Ed McTaggert, "...it wasn't a very good contract for us artist-wise."

Undaunted, the band decided to stay within the fellowship of Christian artistry, at least for the time being, and signed a recording and publishing contract with Solid Rock Records. Unfortunately, having been educated in the business at Maranatha! Music, D. A. apparently did not fully recognize the meaning of a written contract. Norman, however, was hip to the fact that since Maranatha! was considering selling the Horrendous Disc to Myrrh, paperwork was absolutely necessary. The selling price, according to Norman, was $35 thousand dollars, repayable, according to usual industry practice, from artist's royalties received through sale of the album.

"We were signing under the spirit of the agreement rather than the letter of the law," says McTaggert. "We (Norman and D. A..) even talked about it the night before. If we felt like there needed to be a parting of the ways, that we would shake hands and go, and the contract wouldn't be binding to us."
Why sign a contract then?

"That's what we wanted. We wanted to be with Solid Rock ...the image, yeah, and our initial attraction was that Larry had some contacts with secular companies who had expressed interest in signing D. A. so that was another reason..."

Aha!!! thinks Scribe. The heroes raise the banner and enter the fray.

Word ransomed the Horrendous Disc (originally, to release it on Myrrh, but that didn't fit too well into D. A.'s vision), and Solid Rock, in turn, leased the Disc from Word. Larry began working on the final stages of the LP, and everyone was pleased.

Norman believed, however, that the album needed to be refined in expression and clarified in light of the group's artistic direction. Daniel Amos agreed that considerable time had elapsed since the tracks were first laid and that several songs on the album were no longer truly representative of the band's current material. So, two cuts were dropped, two were added: one called, "I Love You #19," and another (released a little over a year later on the Word promo EP for the album) called "Hound Of Heaven," (based on a poem of the same name by 19th century poet Francis Thompson.)

Then, Daniel Amos and Norman agreed on a specific song order and on the general concept for the cover art. The latter - loosely based on a mixture of flying saucers, horror movies and the band's anti-cult skit about preachers from outer space - was a tall order, and perhaps a bit confused theologically. According to Norman, the cover art cost him considerable effort, time and financial investment; it appeared the pieces of the puzzle seemed mechanically related but stubbornly defied attempts to be integrated into an organic whole consistent with the musical and thematic content of the album. In Norman's opinion, at least, the concept lacked focus.

About the same time, Larry took Daniel Amos into the studio to cut a demo of five songs (including a country tune called, "Happily Married Man"), to press into an EP for underground sales and to show to secular record companies. The project was funded by Solid Rock with Larry's personal money. Not much resulted from this endeavor however because D. A. decided they didn't want to release an EP after all so the band kept the masters.

By now our cast of characters had worked their way, slowly but surely, into September 1979. All appeared ready for general distribution of the now already famous LP. Word delivered a 12-inch "test pressing" to the Publisher, and, based upon information released by the group and the label, he announced to his readers that the product would be available in October. Presuming the album's imminent release, and already engaged in printing the covers and pressing the vinyl, Word placed a full page, black and white advertisement in the November issue of the Publisher's magazine. Then...

Nada.

Somewhere in the night, violins played the refrain of "As Time Goes by."
It's now late '79 and the Publisher, being a good sort and assuming the Word ads were a sign of imminent release, ran a cover story in January entitled, "Daniel Amos: Christian Music's Angry Young Men." The issue drew fire from anti-rock crusaders throughout Christendom and it didn't sell very well either. And still, you guessed it, no Horrendous Disc.

That's when the Publisher - unable to get anyone on the telephone at Street Level Artist Agency (more yet to come) who knew anything precise, and, later still, unable to get a firm commitment from Word - decided he needed someone to do some in-depth sleuthing. So, Publisher hired Scribe, who completed prior commitments and begun work for Publisher in May.

After wearing the deerstalker hat for only a short time, Scribe uncovered a remarkable treasure - actual proof of the habeus corpus!

Scribe stumbled onto a whole load of cassette tapes of the invisible Disc, sitting in the Word warehouse in Waco, Texas. A little more detective work uncovered 15,000 (or so) printed album jackets and some rejected discs moldering in the Los Angeles warehouse of the Capitol pressing plant, Word's official record presser. Why these platters were pressed without the official test pressing approval of Solid Rock, says Norman, no one seems to remember.

Further sleuthing, however, brought the events of the mysterious Saga into a more observable pattern.

Retracing the Publisher's steps, Scribe found that on March 20, 1980, Daniel Amos, engaged in a brief national tour, paid a visit to Waco and a company representative played a test pressing of the Horrendous Disc for the band which was surprised, delighted, and then dismayed. The songs seemed to be in a different order, one seemed missing altogether, and there was a flaw in the vinyl on side two. But D. A. didn't say anything to Word vice-president Stan Moser or the A&R rep, Buddy Huey. Instead, the band returned to California for a meeting with Norman who agreed that he'd do something about it.

Back on tour, Daniel Amos expected all would be well on their return. But when they arrived back in California in mid-May, they found waiting for them a letter from Norman saying that he had decided to release them from their management contract and from any further management payments beyond the $15,000 they had already accrued but had yet not paid. He would manage them for free, he said, give them any kind of support or direction they desired, but would not accept any financial remuneration.

Norman's letter was his reaction to some pretty heavy goings on at Street Level Artist Agency. (The site of major conflict in this Saga.) Norman, who had founded the organization, and Philip Mangano, the man who as friend and assistant to Norman ran the show while Norman was on tour and in the studio and generally being the artist, found themselves in disagreement over a variety of topics, all of which had everything to do with the difference between the concept of music ministry and the practices of the music industry. The main topic of dissention was how Street Level should charge for it's services - in this Saga for personal services to D. A. (California Civil law states that it is illegal for the same company to receive compensation for booking and management of an artist.) The issue was how to keep the artists' cost for services below 15 percent and still sufficiently fund Street Level so that it could, in turn, best serve it's artists. Norman focused on ministry; Mangano on business. Discussions (some of them pretty horrendous) also revolved around the issue of fairness practices in charges to sponsors for traveling expenses and lowering the cost of records to the artists. Finally, Norman, in order to declare his position, generated the star-crossed letter.

Daniel Amos apparently mistook Norman's correspondence for a reaction to their request for re-working the master of Horrendous Disc. It retained a lawyer who promptly wrote Norman and said that the band was terminating all it's contracts and wanted it's music - the Disc, the publishing rights, the secular demo - back. Norman responded, explaining that D. A. was free to leave, as were all Solid Rock artists, but they would have to honor at least part of their contract, that he couldn't give them what was not his to give...

Stalemate.

July 1980: Word religious radio promo man Dangerous Dan Hickling releases a 10-inch multicolored vinyl EP to various radio program directors and the Publisher. (The promotional device is now a collector's item not only because of the history of it's father Disc, but also because one side contains two songs - "I Believe In You" and "Hound Of Heaven," - playable at 33-1/3 rpm, while the other contains the now prophetic tune, "Horrendous Disc," playable at 78 rpm only (so that almost nobody could hear it.) Hickling's mailing was well received, and several Christian contemporary music stations still play the 33-1/3 side.

...Oh yes. And the Publisher made a humorous side comment about the elusive album and Solid Rock in the July issue of the magazine.

Meanwhile, Daniel Amos was rapidly approaching the crossroads. Two members - Mark Cook and Alex MacDougall - left the group to pursue other godly and financial supportive endeavors. The remaining four changed lawyers. During the early summer, the group had managed to play club dates around southern California and elsewhere, including the now infamous club dates at the even more infamous L. A. rock club Madame Wong's during which time the band played some of it's new, new wave material. Of course, this development caused considerable consternation among some of the members of the Christian community.

In August, D. A. repeated it's Madame Wong's performance. At the time, Norman and Randy Stonehill were away from Los Angeles on a duo tour booked by Street Level, and Phil Mangano, Norman's former business associate at Street Level Artists Agency (by now, Norman is out of the picture at the agency, but not at the production company) and still D. A.'s unofficial representative (he calls himself "an advisor, friend and counselor" for the group as well as others at Street Level) had already begun talking with New Benson Company about a Daniel Amos recording contract.

Meanwhile, harried Scribe was trying to find out what was going on - no easy task since hardly anyone else seemed to have an inkling. Sometimes, like the man said, the facts obscure the truth. So, in desperation, Scribe simply set down the story upon these pages before you here, in hopes that the following might be more clear...

In December, Ed McTaggert and Terry Taylor, the songwriter of the group, confided in Scribe:
"...What it has come down to is we've looked at it really prayerfully and it's been such a point of strife for us. Holding up the release of our album has hurt us financially, spiritually, mentally in many ways. We realize ...we were actually sinning in the fact that we were trying to avenge ourselves, trying to get back and fight Larry off about these songs, publishing rights and all this, trying to hold onto what's 'ours' because 'we're in the right' ...you know, because 'we're the righteous ones and we're right about this.'"

Then Scribe called Waco and asked vice president Stan Moser to clarify Word's position on the album. Moser indicated that Stalemate Norman still had the legal rights and physical control of the Daniel Amos record.
"Well," he chuckled, "Here's what we've got. What we have in our warehouse right now is, I believe, 25,000 jackets with the wrong songs listed on the back. And we have 10,000 8-tracks and cassettes of finished product that have only nine songs and I think there are ten songs that are supposed to be on the final album. So we've had those in our warehouse for about 90 days. Once we reached that stage, we realized that something was wrong somewhere. And then Larry informed us that the 8-tracks and cassettes were pressed from the wrong master tape, or created from the wrong master tape, and that he would furnish us with the finished master tape that would correspond, as I understand it, with the jackets we now have."

Confused? So was Scribe. Noise in the system no doubt. (If the tapes are pressed wrong, then what happens to all those ill-fitted album jackets?)
What would happen if Daniel Amos released Norman from the legal complexities and he, in turn, notified Word that the Disc was no longer a legal whirlpool? Would Word go straight into production on Horrendous Disc?
"Oh absolutely, absolutely ...We'd put it out immediately, which would be like 60 days... Of course, our agreement, is with Larry, and we are bound by that agreement to cooperate to the fullest with Solid Rock; and so we would honor Larry's position on the whole matter."

One final question, answered by Moser with good humor and tactful diplomacy: Has there ever been any difficulty with the group's image or it's approach to music at any point in time? They've been a little bit into the secular performance area recently...
" ...Certainly, we've had comments... many discussions about the direction of the group. But it's my understanding that, presently, the direction is very much ministry-oriented and that their concerts are revealing that. So, we don't ...have particular problems with them... I'm ducking the question."
So what does Larry Norman have to say about all this? Scribe spends weeks trying to make contact with Solid Rock to get his version of the Saga. Finally located and convinced of the importance of his recitation, Norman gave his version of the Saga.
"Well of course it's taken a long time for Horrendous Disc to come out. Even before they mixed it down they placed an ad in CCM announcing it's arrival. At that time they were still signed with Maranatha. Then they decided to get out of their Maranatha contract. They had a manager lined up to take the album to Warner-Curb. But they had a problem because they didn't own the album. Then Myrrh offered to buy the album from Maranatha because Maranatha didn't want to release the album on their own label after the group decided to break their contract. So the album was sold to Myrrh.

Meantime, they dropped their booking agent and decided to approach Street Level Artists Agency. I told them we didn't handle anyone except Solid Rock artists. They decided we should try to get Horrendous Disc from Myrrh. By now I was handling their management because they didn't know what to do with their career. So I agreed to try and get Myrrh to release the album on Solid Rock. And Myrrh very graciously agreed. But I told the group they'd have to record some better songs to meet up with the Solid Rock standards. They agreed to. They finished the album and it was ready to come out. Then they said they wanted an outer-space fantasy feel to the album. So we shot all new album photos. All of these changes took an incredible amount of time, and meanwhile people kept saying, 'when is the album coming out?'

"When I saw Daniel Amos in concert at the time I was very upset by the kind of performance they were doing and I told them that unless they were less obscure in their Gospel presentation I wasn't prepared to take them to a secular label. Soon after, I got a letter from a lawyer saying that Daniel Amos wanted to break all their contracts with me and take their music back and they were prepared to take legal action to accomplish it. They left owing me $15,000 in management fees and a legal threat hanging over my head. Then they changed lawyers and got one of the best in the business, a man even I've heard about. Well, I don't have a lawyer and I've certainly never been sued so I have no idea what to do about all this, but I know what's right.

"Only recently has Daniel Amos decided that they were wrong about their approach to me so it's possible that this will all be settled soon. But meanwhile, because of loose gossip within the industry I've been portrayed widely as a person who creates problems. And I'm not. Word has stood behind me all this time, agreeing that the album shouldn't be released until all this is resolved in a Christian manner. Meanwhile, I've heard through the Street Level grapevine that Daniel Amos has been recording and is ready to release another album. So maybe we'll have two new album's from them and everyone can catch up on their music. I really love those guys. I just hope they'll settle down with some label and be content for a while. They have a lot of potential and I just hope they fulfill it."

Apparently, a breach in communications occurred sometime during the fall months of 1980. According to McTaggert, D. A. instructed it's lawyer months ago to "give Norman anything he wanted to settle this thing." But this little tidbit of information must have been lost in the shuffle somewhere - probably another case of noise in the system. Oh well, life on this planet's a funny thing. Everyone's perception of it differs. Accordingly, these tired and bleary eyes see...

"Scribe," the Publisher queries with insurmountable patience. "Where is the Horrendous Disc?"

Err ...on it's way, sir.

"Who says?"

Stan Moser says Word will release it when Larry says it's available.
Larry Norman says he'll release it when Daniel Amos lets him.
Meanwhile, Daniel Amos has picked up it's tent and continued on it's way, stopping only to offer confession, repentance and a congenial good-bye.

"Scribe?!"

Yes Publisher.

"When will it arrive?"

Uh, that's hard to say sir. Sixty, 90, maybe 120 days. Maybe more, maybe less...
Anyway, as I was about to say, this is the last word on the Saga of the long search for Horrendous Disc.
It's still out there... somewhere. Get it? (Before it gets you.) May God bless and bring greater unity to the Body of Christ. Amen.

---
Reaction To The Above Article
From: CCM Feedback, May 1981.

I am the attorney for the group, "Daniel Amos". I am writing with reference to your article "Whatever Happened To Horrendous Disc?" which appears in your March 1981 issue. I would respectfully request that you immediately publish clarifications and corrections of the article in order to lessen the harm created by your article.

I would like to point out certain specific references that are either factually incorrect or where there has been what appears to be a deliberate "coloring" of the facts to the detriment of my clients...

2. Your statement that "D.A. apparently did not fully recognize the meaning of a written contract" with their respect with signing to Solid Rock leaves me with the distinct impression your reporter wants the reading public to believe the group is irresponsible in their contractual dealings...They did then, and do now, intend to abide by the terms and conditions of any valid agreement to which they are a party...

4. Your article states that "Larry took Daniel Amos into the studio and cut a demo of five songs (including a country tune called, 'Happily Married Man')...The project was funded by Solid Rock with Larry's personal money." I can only presume that Mr. Norman was either misquoted or misunderstood on this point as he has quite readily acknowledged to me in our conversations that he neither produced nor payed for "Happily Married Man". "Happily Married Man" was written, produced and entirely paid for by Daniel Amos.

8. The statement that Daniel Amos and Mr. Mangano "had already begun talking with the New Benson Company about a Daniel Amos recording contract" in August is incorrect...No conversations were had with any company until after the agreements with Solid Rock had been rescinded...

9. Your article now proceeds to draw Word Incorporated into the fray. Daniel Amos is neither responsible for the mix-up in the masters nor the failure to release Horrendous Disc. I suggest you clarify these facts with both Mr. Norman of Solid Rock and Mr. Stan Moser of Word Incorporated...

10. There are various statements attributed to Mr. Norman which require comment:
First, as previously stated, Daniel Amos did not "break" it's contract with Maranatha!, there was a mutual agreement to terminate the relationship and Daniel Amos continued with the blessing of Maranatha!
Second, Daniel Amos did not "break" their contracts with Solid Rock or Larry Norman, these contracts were legally and validly rescinded because of their nature...

Stan Moser of Word has offered to mediate between the parties and we have happily accepted his offer. I hope that Stan's good office will be sufficient to settle this. My clients bear no ill will toward Larry, indeed, they respect him greatly. Their only wish is to be allowed to continue with their music.

Richard A. Schulenberg
Attorney At Law
Century City, CA.

From: CCM Feedback, May 1981.

It was with dismay that we read the article Whatever Happened To Horrendous Disc? in the March issue of your magazine. Having talked with the "Scribe" of the article and even provided information when asked, we were appalled at the confusion, innuendo and lack of fact that permeated the article.

The major thrust of your article seems to suggest that Daniel Amos has been the primary impediment to the release of Horrendous Disc. This is simply not true. We have watched the band members and their families struggle through the increasingly difficult financial pressure, while waiting for an album to be released that they had completed more than a year ago! It is to Daniel Amos' credit that they have acted with restraint and Christian Charity toward Larry Norman.

We are proud to represent Daniel Amos and the other artists here at Street Level, not because they are perfect models of Christ, but because their lives demonstrate individuals yielded to Him and moving towards His perfection for them.

At a time when your publication is taking an increasingly responsible place in the Christian music industry, we would urge you to be thorough and fair in your research and journalism.

Dan Russell
Holly Benyousky
Ray Ware
Street Level Artists Agency
Pasadena, CA.

From: CCM Feedback, May 1981.

So that's what happened!

D.A.

---
In late 1981 CCM Contributing writer Brian Healy wrote a parody of the following article in the form of an angry letter about Randy's "Between The Glory and the Flame". The letter was meant only as a joke, and was never intended for publication. Someone decided to print the letter in the December 1981 issue of CCM Magazine as if it had been sent in by an angry reader. ("Closer to the Flame")

For more information on the background of the article, "Whatever Happened to Horrendous Disc", read John Styll's editorial from March 1981 entitled "Trials, Tribulations, and Happy Endings".


---