the MAD GENIUS of
Terry Scott Taylor
by Brian Quincy Newcomb
CCM July 1987


The either/or logic of C. S. Lewis does not seem to apply in the case of Terry Scott Taylor, frontman of DA, solo artist, and producer. It was in Mere Christianity- or some other book that only "thinking" Christians or college students whose faith is being pummeled by doubts raised in their first philosophy class might read - that Lewis suggested that Jesus' words about Himself were antithetical to some's contention that He was merely a good man offering nice words about self-esteem and caring for others. "I am in the Father and the Father is in Me.," Jesus had said, and He was either the Son of God, Messiah, / or He was crazy as a loon. The enigmatic simplicity of Lewis' logic was enough to salve many a sophomore angst.

With Terry S. Taylor, though, I believe we must use a different approach: both/and. Any number of critics (myself included) and fans alike have praised Taylor's clever way with words, his wit and intelligence, his graphic satire and idiosyncratic humor, and his unique compositional vision. One might suggest, however, that he's merely crazy as a loon. See this passage from "Home Permanent." "What I believe/Is in my fashion/Clothes make the man/Herein my passion.../My hair points to the sky/The place I want to be/Home Permanent/Home/Permanently."

Where else have you heard the concepts of Christian lifestyle and witness dealt with alongside ideas about home grooming aids, contemporary fashion statements, and a longing for God's kingdom expressed with such charm and delight? Poetic genius? Maybe. The work of a comical kook? Most definately. Big Fun? Sure thing. Terry Scott Taylor brings a keen insight into Christian expression together with a sense of the realities of life in the real world, and he does so in a way that intrigues and excites the listener. He often drives home the most serious truths on the sharp edge of laughter, and we find ourselves, with Taylor, surprised at the starkness of the human experience and delighted by the awsome grace of God. He is a significant artist and one of the great visionaries of contemporary Christian rock - and he is crazy as a loon. Both/and.




The DA Chronicles
In 1981, after releasing two seminal works in the country vein and Horrendous Disc, an early rock classic, Taylor and Daniel Amos undertook a four-volume conceptual piece, The Alarma Chronicles. While DA learned endurance by changing record companies between each release, fans learned to be patient. Their patience was rewarded as each successive release rose above the expectations created by the previous effort, culminating with last year's series closer, Fearful Symmetry. While Larry Norman, Tolkien, and Steven R. Donaldson settled for trilogies, Taylor and DA created the first tetralogy (say that four times) known to rock. Isaac Asimov is said to have added the fourth chapter to his famed Foundation Trilogy on hearing of it's existence. "The important thing," notes Taylor, "is that we stepped out and did it. That's what counts."

Doppelganger and Vox Humana replaced the stark '77 (Talking Heads) mood of Alarma with greater compositional prowess and technological advancement. "I like to stay on my toes," states Taylor, explaining the band's tendency to burn their bridges in an attempt to break new musical ground, "and I like my listeners to stay on their toes as well. I want to continue to challenge myself. Our listeners are people who enjoy surprises, and I enjoy surprising people. That's a fun part of music, and a lot of fun has gone out of music because people have forgotten that."

"Hollow Man," the opening track of Doppelganger, was a paraphrase of the T. S. Eliot poem "The Hollow Men" over the backward track of "Ghost Of The Heart" from the previous album. (They had hoped to use Eliot's own verse, but the Eliot foundation turned them down.) Backmasking 101. Big fun, eh? "William Blake," on Vox Humana, sought to vindicate the eccentric poet and his vision of Christ. Eliot, Blake, and the vindication of a round artist in a square world? Could be poetic genius; could be looney tunes.

Then there's "Mall (All Over The World)" with it's vision of human satisfaction in a global shopping complex, and "Dance Stop," a statement on apathy and an invitation to watusi into the nuclear apocalypse. Both/and, but definately big fun.

Vox Humana closed with "Sanctuary," a powerful word about God's comfort and peace in the afterlife written upon the death of Taylor's grandfather. Durring that time which he describes as "a devistating series of events, dealing with the grief and loss of someone close to me for the first time," Taylor began work on his first solo record, Knowledge & Innocence.
"The (first) solo record, " Taylor explains, "was a way to further explore my personal feelings. Sort of a cathartic experience. I could deal with that loss the only way I knew how - songwriting."

Thus Knowledge & innocence's deeply personal web of light, Lennon-esque pop, tapes of actual family gatherings, and traditional gospel quartet numbers (presumably favorites of his grandfather) gives the most intimate picture of Taylor's life, struggle, and impending faith. Most moving is "Light Princess" with it's opening of a baby's heartbeat recorded in the womb at six months and the heart-rending portrayal of a father accepting the death of the infant by placing her in God's arms. Similar is the sentiment of two songs on Fearful Symmetry, "Sleep Silent Child" and " Beautiful One": "Leaves of sound are shed/They fall/On this murmuring mind/Where the lullabies call/And from these words/I sink and fall.../Behold this dreamer/In the arms of the Beautiful One."

If Knowledge & Innocence was the beginning of the catharsis, A Briefing For The Ascent, a chronicle of one man's grappling with mortality and life's maker in the face of it's fragility, is it's conclusion. Dedicated to Taylor's grandmother, written in the two-week period before she died, and actually sung to her on her deathbed, Taylor admits that it is "more of a musical diary" and that "it's extremely personal." He continues, "I was not writing these songs to reach a pop audience, and I didn't expect mass consumption in record. I was seeing how temporal life is, how we cannot hold on to it, and I wanted to express that. It's deeply personal, yet these are universal experiences."




The Boys In The Band
While Taylor says he will continue to use his solo records to express his personal life, that is no indication of the demise of DA. " I'm real happy to be a vital part of DA," he says. "I love the band, and I love being in a band setting. They're great guys, and we have a comradery that, I think, is unlike that of any other band. I enjoy it extremely."
Fearful Symmetry sums up what is most exciting about DA. Taylor says, "By and large, it's sales the best effort of the band to date. All along in the studio, I felt that this is the ultimate DA record." Perhaps due to Taylor's solo excursions and no doubt due to the strong cohesiveness of the band, this latest installment finds DA more like a band than ever before. Taylor explains that "before we got to this point, I was a little bit insecure about letting go of the reins because, with personnel coming and going, the band had changed so much."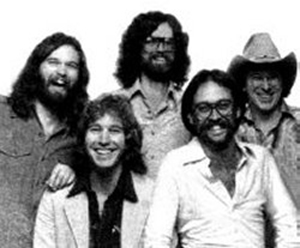 Disc boasted a six-man lineup, and the whole crew hit the road on the now infamous Amos 'n' Randy (Stonehill) tour where the band shook off the country image in one swell foop. For Alarma, they were a stripped-down quartet, but by the time they hit the road to "Hit Them With Love," Tim Chandler had replaced Marty Dieckmeyer on bass. (Ever notice he was the one turned to salt on the inside cover? And for that matter Mark Cook got zapped with green light on the back of Disc and then soon departed. Just thought I'd mention it...) Jerry Chamberlain, noted for his manic guitar solos when playing live, split after Doppelganger, and keyboardist Rob Watson came on board with Vox Humana with Greg Flesch taking up the six-string slack just in time to take Humana on the road. Taylor and ace drummer Ed McTaggert are the band's vets while Chandler, Watson, and Flesch are feeling more like family every day.

"With Fearful Symmetry," saya Taylor, "the band gelled so much and we worked so well together that I could let go and let the band be a band."

One striking instance of the band being a band came in "Sudden Heaven." The song came together almost spontaneously in the studio, and on vinyl the rollicking country drive pulls up suddenly into a brief Lennon-like coda. Taylor says, "I listen to that track more than any other. You can just feel the power of this band in it."

The Boys' Other Bands
Perhaps one of the strengths of DA's current lineup is that none of these guys is entirely dependant on the band as a creative outlet. Also, they really enjoy being DA. Ed McTaggert, who's been doing DA's record covers and layout for years, is an art director and has designed the artwork for both of Taylor's solo LPs as well as recent Frontline releases from Mad At The World and Common Bond.

When Tim Chandler isn't the bass end of DA, he's in The Choir or playing backup to Randy Stonehill or Tonio K. Taylor jokes that it's concievable that "Tim may be the bass player for every other band in the universe."

When not in DA, Rob Watson leads Body & Soul, a band which took a break from playing clubs and backed up Sheila Walsh on her summer tour last year. Watson also co-produced Knowledge & innocence, and he is rumored to be recording on his own.

Besides helping with the recording of A Briefing For The Ascent, Greg Flesch has worked on some of Taylor's production projects as well as on Frontline, DA and Taylor's new home label. Taylor has produced Wild Blue Yonder, a new and soon-to-be-released Altar Boys record, and some music tracks for an isaac Air Freight comedy LP, but he's presently at work with Flesch on a children's rap album called Mega Mouth & The Rap Blasters: Rap Battle In The Big City. Imagine a rap concept album, the hero being a walking/talking tape deck who says his things with rap that's clean. Both/and. See what I mean?

Looking ahead, Taylor sees a fine, fun future for DA. the word out at Frontline is that the next release will be a double album with two sides of new studio material and two sides live. After six conceptual LPs from Taylor & Co., this one might just be songs. No story, no plot. Just rock 'n' roll. What a concept. Imagine - a bunch of new songs from DA and live versions of "Mall," "I Love You #19" (they may be up to 23 by now), and the long-awaited "We're On Your Team." That last song is a tribute to DA fans, and after telling of one hard-core DA-head who drove eight hours to catch them on one of their infrequent tours, Taylor notes, "We have the best fans in the world."

I bet they're just crazy, too. Both/and. You got my point?

---
Taylor Made Tunes
Knowledge & Innocence (1986), Shadow 7900600175
A Briefing For The Ascent (1987), Frontline RO9018
DA's Discs, Horrendous And Otherwise
Daniel Amos (1976), Maranatha! Music MM0024A
Shotgun Angel (1977), Maranatha! Music MM0032A
Horrendous Disc (1980), Solid Rock Records SRA 2011
Alarma - The Alarma Chronicles Vol. I (1981), NewPax NP33095
Doppelganger - The Alarma Chronicles Vol. II (1982), Alarma Records And Tapes ART 101
Vox Human - The Alarma Chronicles Vol. III (1984), Refuge R84008
The Revelation (1986), Frontline RO9010
---