Vertigo
The Swirling Eddies Spinning Vortex Fun Club
Volume 4, Issue 6 Spring 1994

(How many issues are in a volume? Let's see --
4 quarts in a gallon, 16 ounces in a pound,
20.6 inches in the Egyptian cubit...)
The authorized King James Versionof the Most Trivial and Banal Newsletter if the Swirling Eddies Spinning Vortex Fun Club and Mutual Admiration Society, Daniel Amos, STUNT Records, etc., etc. hereafter referred to as TSESVFCAMASDA&SR,E,E.


Alas, Bibleland!
New Daniel Amos Album Hits The Beaten Path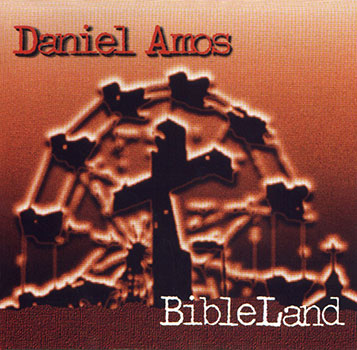 The new Daniel Amos album, BibleLand, should be available in stores by the time you're reading this newsletter. Regardless, you can order it in our Junkpile. Quite a departure from the somewhat lush production of Motor Cycle, this album is about guitars and lots of them, A genuine band sound is captured and the boys show all these young whiper-snappers a thing or two about how to ROCK!, dudes. Raw, grungy guitars, melodic hooks, sharp-witted songwriting and their signature quirkiness makes this record one of their most enjoyable yet. It is being released on WAL (yet another new label) so look for it every where and then some. Unfortunately, due to strange and bewildering circumstances, this record is not being marketed by WORD, so we're going to need a lot of help from you, the fine listening audience, to help us sell this puppy. In other words - "Turn someone on!!"

The Bibleland Liner Notes



---
---
What we've been up to:
March 1993 - Daniel Amos - Motor Cycle - BAI
July 1993 - CD reissue of Terry Scott Taylor's Knowledge & Innocence - Pulse
October 1993 - Lost Dogs - Little Red Riding Hood - WAL
December 1993 - Brow Beat - compilation with new Terry Taylor (solo) cut - "Will Have To Do For Now" - ALARMA
May 1994 - Daniel Amos - Bibleland - WAL
July 1994 - Swirling Eddies - Zoom Daddy - ALARMA
July 1994 - Daniel Amos - live at the Anaheim Convention Center 1978 or so. STUNT
September 1994 - Armour-Dillos - Get Thee Behind Us - STUNT New comedy from the Reverend Edward Daniel Taylor, Dr. Aaron Bergman and the newest Christian Heavy Metal Supergroup.

Productions
Deliverance - Learn - INTENSE
Riki Michele - One Moment Please - WAL
Poor Old Lu - MindSize - ALARMA
Pail Aldrich - The Historyof God and Man - Broken
Deliverance new project - BAI


Whoah Nelly!!!
The Swirling Eddies were never rescued from that horrible yachting mishap but their illegitimate children have assumed their identities and have found their way back to FRONTLINE where they have recorded a new album! This brilliant new recording is entitled Zoom Daddy and should be out sometime this summer. It boasts such wonderful songs as "God Went Bowling", "I Had A Bad Experience with the CIA and Now I'm Going to Show You My Feminine Side", "Nightmare At The Elks Lodge" and "Disco Love Grapes", don't let the titles fool you, this ain't no joke! Another Swirling masterpiece!



---
Lawsuit delays newsletter
HOLLYWOOD - Production was delayed for 14 months on VERTIGO, the newsletter of the Swirling Eddies Fun Club, when the organization brought obscure film make Steven Spielberg and his B-movie production factory, Amblin Entertainment, to court for trademark infringement. Spielberg and his B-movie production factory, Amblin Entertainment, could not resist the temptation to further their meager reputation by borrowing an internationally beloved symbol like "Stunty" the Horse for their pathetic little dinosaur movie, "Jurrasic Park". STUNT executives argued that the adaptation of their logo would no doubt insure the worldwide success of an otherwise "direct-to-video" movie and asked for a simple $53 million for use of the design. After months of violent testimony, heated "Tijuauna - style" haggling and some failed bribery attempts, the case was inexplicibly thrown out of court. Spielberg eventually changed the logo and the judge was later found half naked in an alcohol-induced coma somewhere near Sunset Blvd. STUNT executives had no comment other than "...one giant leap for mankind".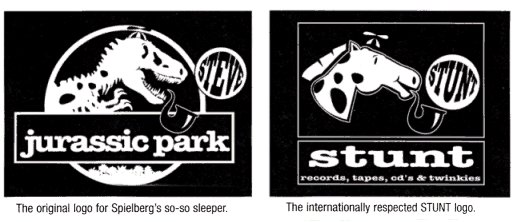 ---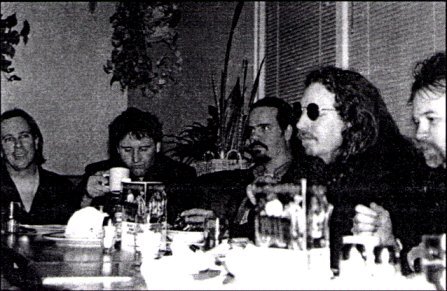 The DA boys, also known as Ed McTaggart, Greg Flesch, Tim Chandler, Terry Taylor and Jerry Chamberlain (l-r), enjoy the wholesome family atmosphere of the local Lenny's, I mean Denny's. Tee Hee. @#$%*#@#@! Pardon us ladies and gentlemen, the previous writer has been duly beaten and marred for that last excrutiating comment. We here at Fun Club Central HQ find those commercials extremely offensive to our collective sense of cosmic virtue and can therefore assure our readers that no jokes of this caliber will ever appear in Vertigo again... @#$%*#@#@! Ok. I'm back. Where was I? Oh yeah, Tee Hee. The Daniel Amos guys enjoyed a heapin' helpin' of "Two Moons Over My Hammy"... @#$%*#@#@!@#$%*#@#@!


New Additions:
Veronica Jane Flesch,
born 9-22-93 to Greg and Karlyn Flesch (1st)

Emily Elizabeth Patton,
born 10-25-93 to Court & Tiffany Patton (2nd)

Maxwell Donovan Chandler,
born 2-27-94 to Tim & Maria Chandler (1st)

Personal Notes:
All you eggheads can e-mail me at "Swirly@aol.com" on the Internet or just plain Swirly on America Online. I was off for a month, but I'm back on and try to respond to each note.

Help! Looking for out-of-print hardcover fiction by Frederick Buechner. Will trade product!! Anything before The Wizard's Tide. Try used bookstores and thrift stores. Note: If you haven't read Buechner, do so immediately. Hard to find but well worth the effort. Our own modern day Lewis.

Anybody missing product? Please write or call. (619) 390-9665 (legit calls only please and not too early or too late PST). I no longer work for Uncle Sam so this newsletter is going to be a big part of my income and orders will be handled right. Whaddya mean you've heard that one before? Why I oughta...

Hope to see lots of you at Cornerstone again this year. Come by out booth. We'll have new T-Shirts, hats, the new live disc and we'll be distributing copies of The Door, a great satire magazine that has been around for ages and is still a riot. Patton Brothers Design took over the design and layout around a year ago so you should subscribe!
Later, Tom



---
Weird Mail
We received this letter recently and felt it would edify and bless you and inspire others to write us.

Dear Terry Taylor,
Thanks so much. I recently attended Cornerstone '93 and I thought I should thank you for ruining my life. I'm 37 years old, married with two winderful children... whom I rarely see now. Shame haunts me. You would think at my age I would not be so easily influenced. You would think at your age you wouldn't toy with the emotions of those who worship you. Yes, I was at the festival. I was entranced by you, the band. The heady feeling I was in the presence of greatness. Actually, several days before, camping in the mud with my wife of fifteen years (most of those years, incidentally, spent going to the porta-potties at C-stone) I refused her advances. I wanted to remain pure, to cleanse myself of all fleshly desires, in order to properly prepare myslef for that rite. Your performance. Not only abstinence, but with a Catholic background, I placed several small, course stones in my tight jocky shorts. With relish I walked... stiffly, for several days in anticipation, refusing all comfort... which pretty much defines living at Cornerstone. The evening arrived. Testicles bloodied, but horny and prepared. The performance was..........................transcendent. I lit my Bic during "Motor Cycle". Unfortunately, the Bic was still inside my pocket at the time and I was rushed to the medical trailor. Undaunted, I broke out, crawling back to the main stage, the mid serving as a cooling salve to my bloodied and burnt loins. As my ecstasy increased, I was transported to altered states... which, as it stands, required several expensive passports. I gladly paid. And then the tragedy. DANCE STOP. I squatted and rose at your command like a trained seal, my wife tossing me peices of haddock. Then the words that caused my world to fall apart. I sat there squatting like some nubian waif upon seeing his first plane. Worshipful and waiting a god's next words, breathless, that I could please you by adhering to your desires. And you ordered "turn around".
Not bad in and of itself, granted, but in my state of somnambulatory bliss I thought you said "burn the town". I don't know if you noticed, as you jetted off several minutes after the performance in your Lear, no doubt awash in cocaine and nubile fourteen year old gymnasts, that the town of Bushnell was aflame.
It is amazing what a man possessed by celebrity... and obviously reacting to the sublimated erotica in watching flames due to abstinencce, can accomplish with a flic of his Bic.
You, you... you really powerful guy you. I now reside in a halfway house, working at a Ponderosa, wearing a stupid hat, as Chet, my nineteen year old manager, points out that I missed a spot on a coffee cup, waiting. Wondering. Are you guys ever gonna tour through Connecticut?
Constrictingly yours,
Stephen
Waterford, CT

Dear Steve,
We really hate to add insult to injury, but what you saw at Cornerstone was merely a bunch of paid actors, lip-syncing to Terry's music. The abdn was actually vacationing on the French Riviera last summer, sipping high-balls with Hollywood stars, super-models and European royalty. You see, tha band hates having to meet all you lowly fans and shake your hands and things like that. I hope you're not too disappointed or disillusioned. So, no, we won't be touring through Connecticut, but you can purchase a photocopy of Terry's autograph in our Junkpile for $200.
Thanks so much and God bless.

Don't miss the Lost Dogs on July 2nd at LollaJPUSA (Cornerstone 94) in Boondocks, Illinois, mainstage Saturday Night, tucked neatly between the Choir and Steve Taylor. Should be a party. Those pups start a new album this summer! Oh joy!

---