The DA NEWS LETTER
Doppelgang Newsletter 1986
DA'S OFFICIAL NEWSLETTER IS BACK – AMERICA WAITS
For those of you who've been wondering "whatever happened to the DA Newsletter," you can now breathe a sigh of relief and resume normal, productive lives. After a rather lengthy absence, the Doppelgang Newsletter is back to assure you DA's place In pop mythology remains intact.

As for the delay, we could skirt the issue and blame it on the Russians. Or would you believe the economy? Would you believe, the Russian economy? Anyway, we can only hope this modest epistle will more than make up for lost time. In this issue we not only offer a new and Innovative ideas about music and the ARTS, but share DA's adventures during a recent trip to Europe, and allow you to test your knowledge of DA trivia with the first official DA Quiz-A-Rooni.



DA HITS THE ROAD
Will the road hit back?
You're probably wondering by now why we Would even bother to produce another newsletter. If you're sitting down, we'll tell you:
D.A. is about to embark on a U.S. tour. No, we didn't print this newsletter just for the heck of it. We did it because we need to do something to keep from showing up at empty halls.

For some reason, we were talked into this tour by the manager of a group we christened back in 1982: Youth Choir, now known as the Choir. Derald Daugherty plays guitar for the Choir after having served time as our guitar roadie on many wonderful D.A. tours. It's going to be hard for us to keep a straight face during the Choir's set. We're used to ordering those guys around ("Hey, you! Bring me that guitar!") and sending them on errands. We may even have those guys set our band gear during this tour, just to maintain the proper chain of authority.

You might even recognize the Choir's drummer, Steve Hindalong, from our Canadian Torture Tour '85. He was the guy who sat in for the mysteriously absent Ed "Mannequin Man" McTaggart. Ed, upon reviewing the tour itinerary the day before we left for Canada, reportedly locked himself in his bedroom and claimed to have a 103-degree temperature. Funny, but Ed sure looked fine that same morning when he looked in the paper and noticed the Angels were in first place.

Yes, Ed has made it clear to us, now more than ever before, he will only tour during baseball season if we play in major league cities. If you'll notice, our first tour date begins the week after the World Series ends. Ed made it part of his contract. Perhaps some of you may have a connection with your local major league baseball team owner? I'm sure D.A. would be happy to play the pre-game National Anthem, as long as Ed gets free tickets to the game.

Who knows? If our album's a hit, we may be back on the road later in the year once again. Uncle Terry will be pushing yet another solo album masterpiece, so there'll be plenty of commercial reasons to punish ourselves again. You may even want to join in the selfabuse by promoting one of our shows! For that special treat, all you have to do is call our friendly record company at (714) 751-2242, and they'll make sure we get your phone number. Our part-time agent will then call you collect and tell you how much money you stand to lose. Then if you're still interested, we'll book the show the same night U2's in town, just to show who's boss. If you like challenges, and we know most D.A. fans just love to take risks, this could be for you.

Now, don't get us wrong. We love to play live. And those of you who have seen us live know we say and do most things with cheeks and tongues, or something like that. Satire is something most Christian artists prefer to sidestep, but of course, we embrace it like Roger Ebert swallows his pepperoni pizzas.

Just think of D.A. as Artist Christians, who, Upon reflection of their careers, feel like the guys who graduated from medical school to land jobs as tree surgeons. We haven't become Christian superstars, but we don't mind those who did, either. We're just real jealous, that's all. Anyway, the thing is, what I really mean… (gee, isn't that a line from one of the greatest lyricists of our time, Bernie Taupin?)

We LOVE YOU!
We hope to see you at our concerts!
We hope you buy our T-shirts!
Respectfully yours,
The D.A. Boys


---
THE NEW SHOW DEBUTS IN CALIFORNIA!
Those of you lucky Doppel Gang members who live on the Left Coast will get to preview the new D.A. "Fearful Symmetry" show, featuring songs not only from the new D.A. album, but from Uncle Terry's recent "Knowledge and Innocence" LP as well. Noted Christian music historian Paul Baker had this to say about Terry Scott Taylor (that's his stage name) and his debut solo effort: "It's probably the most poignant, emotional album I have ever heard. It's one of the best albums I've ever heard. I don't go around promoting albums that much, but you have my permission to use my recommendation."

If you haven't been convinced to spend your last remaining dollars on a D.A. concert ticket by now, then you have our permission to be excused from this newsletter.

The first big show is FRIDAY, OCTOBER 24, in beautiful downtown Riverside, at the Municipal Auditorium. Information is available by calling (714) 653-0573. Those of you in Northern California should see us at the famous San Francisco music club, WOLFGANG's, where all sorts of crazy things have happened during D.A. shows over the years. That show is SUNDAY, NOVEMBER 2, and tickets are now on sale at all BASS outlets. Last time we shared pizza with the Wolfgang's audience at the creative climax of our show. This time, we're not telling.

We're gonna go out to the Midwest and East Coast, too, but we had a bunch of dates cancel on us in Florida. If anybody out there in Florida wants us, we want you. We'll come out in 1987, if you promise us free tickets to Disney World so Uncle Terry can finally see Epcot Center. We'll play in Texas, too, if you can arrange it so that we play in Houston when the Astros are in town, and in Dallas when the Rangers play. Sorry, but Ed has laid it on the line to us - no baseball game, no tour.


NEWS YOU CAN USE...
ALARMA! CHRONICLES VOL 2-4
In the next issue of the DA Newletter there will be a copy of the iAlarma! Chronicles Volumes 2-4 for all of you that bought the cassette instead of the album. The cassette packaging did not allow enough room for all of the liner notes found on the albums (including the special "window puzzle"). So in the next issue we will try to make good on our promise. Also there are plans to send out a copy of the lyrics to Terry's "Knowledge and Innocence" album. For some reason the lyrics were not included with the cassette! Sorry, folks.


SPECIAL NOTE:
In the next DA Newsletter, solve the iAlarma! Chronicles album insert window puzzle and win a special prize.

Making music these days has never been more fulfilling for the members of DA and their enigmatic leader, Terry Scott Taylor.

"This project has been a real group effort,' says Taylor, casting an eye toward his friend, long-time partner and drummer for DA, Ed McTaggart, during a recent interview at an Orange County restuarant.

"I believe this record is really the most innovative we've done yet," says McTaggart.

"This record" is the new album from DA, "Fearful Symmetry." It is due for release in September on Frontline Records, DA'S sixth label, continuing a long tradition of label-hopping that has characterized the renegade spirit of perhaps the most unconventional band in Christian Rock.

The "Fearful Symmetry" will not put an end to controversy. It is music hard to define with lyrics - well, let's just say they would gladden the heart of radical 18th century English poet and visionary William Blake - from whose poem "Tyger, Tyger" the title 'Fearful Symmetry, is derived.

"Blake was a religious renegade," says Taylor. "I don't know if he should receive points for that, but he often experienced and wrote about the 'baptism of imagination' - I really believe I experienced a very similar kind of baptism in the creation of this record.'

Along with the first DA studio album in two years, the band has, with a little reluctance, decided to tour this Fall and early next year on a double bill with their old pals, The Choir, formally known as Youth Choir, on what promises to be an adventurous evening of cutting-edge music, But unlike past tours and past albums, DA and Taylor are approaching the Fall with an entirely new attitude about their shamefully under-rated roles in the chapters of progressive Christian rock history. They don't have to tour to make a living; they'll be playing because they want to.

"For years we struggled trying to make DA the sole source of revenue for our individual lives,' says Taylor, now, "and we finally realized, the thick-headed people we are, that it's not happening, and it's not going to happen."

But the story didn't have an unhappy ending. Late last year, when Taylor and McTaggart were moving ahead to keep intact the DA legacy and still make a living for their families (Terry has two kids and Ed supervises a family of six), they were invited by Orange County music impresario Jim Kempner to help him out in the formative stages of his new record company, Frontline.

Taylor was immediately tabbed as Director of Production and McTaggart as Art Director. Nearly every rock Project that Frontline undertakes is done so under the Supervision of these two Christian music veterans, either indirectly by asking Terry and Ed for their thoughts and opinions or directly by Terry's involvement as Producer and the utilization of Ed in the coordination of album covers.

The lack of heavy financial strains has allowed DA to produce its finest piece of work, according to Taylor.

"We felt a greater obligation to make this final album (of the Alarma! Chronicles) really something outstanding, something entirely different. I believe it was Wordsworth who wrote about 'the strangeness in beauty' - that's the spirit this record captures. You're not going to be able to compare it easily with any existing record, Christian or secular. And that's satisfying to me. That's the edge. That's what DA stands for, musically and again creatively. It's music with risk. The fans expect it from us- and that's why we'll tour, at least one more time. We owe it to the fans."
McTaggart is quick to point out that "Fearful Symmetry" is not "bizarre" in the extreme sense of the word.

"The music is quite unlike anything heard before," says McTaggart, "but it's melodic. There are real strong hooks and melodies, and the lyrics are insightful and thought-provoking The musical ideas are quite unique - the istener might have to adjust a little, but the album is quite accessible - in a strange sort of way."

"1 think it's a ferociously original piece of work," adds Taylor. "1 haven1 heard anything quite like it - but this is definitely DA - an extension of our past, and really, the pinnacle of our work. I'm proud of this band - very, very proud."

The most ironic part of the pairing of DA and The Choir involves Choir leaders Deraid Daugherty and Steven Hindalong, each of whom has contributed to the legacy of DA over the years. Daugherty was a guitar roadie on the 1981-82 DA tour with Randy Stonehill, when the band was still known as Daniel Amos (The 'Amos and Randy" tour), While Hindalong filled in for McTaggart on drums during a short DA tour in early 1985.

"We've known Deraid and Steve for a long time," says Taylor with a smile. "I did christen the band, I will take credit for that. I gave them their first name (Youth Choir). Which may be a blessing or a curse, I don't know."

Daugherty and Hindalong, whose full length Myrrh-LA album will be released in October, are excited about the tour with DA. They went around the block once last year on a cross-country tour with Steve Taylor and Some Band.

"DA is a pioneer in Christian music," says Daugherty. "They have been a tremendous influence on my life."
That's putting it mildly. Daugherty met his wife, Marlei, while being a roadie at a DA concert in Grand Rapids, Michigan, a few years back.

The tour will feature not only music from the much- anticipated new albums by DA and The Choir, but also selections from Taylor's well received solo album, "Knowledge And Innocence." Taylor will be recording a follow-up to that solo album soon and it should be released in early 1987.

"I enjoy doing the solo albums," says Taylor, "because I didn't conceive something like 'Knowledge And Innocence' as being social or moral commentary, as DA often has been. DA is really greater than the sum of its parts. It demands certain intangible elements of approach, which I'm hard pressed to explain. On the outside, the record's energy may appear to be generated by some kind of autonomy in attitude and carried into the studio, but restrictions do exist- otherwise I would feel no need to do a solo record. I'm not talking about restrictions imposed by businessmen or record company executives, but an almost esoteric restrictiveness - essentially imposed, or to put it a better way with risk of becoming cliquish or trite, 'Directed by God's Spirit.' The solo album, was a very personal statement of mine directed as well, but in another way. At times it was a very painful album to make, because It was so personal. Simply put, DA is one kind of thing, the solo another."

The Choir's new album, 'Diamonds And Rain," meanwhile, is being produced by keyboard whiz Charlie Peacock, who recently signed a long-term recording contract with U2's label, Island Records, along with the other bands from the Warehouse in Sacramento (The 77's, Vector & Steve Scott).

The first combined date with DA and The Choir is scheduled for October 24th at the Municipal Auditorium in Riverside, California. Those interested in possibly scheduling a date in your area should call Street Level Artist Agency at (818) 796-2027. For complete tour information, as well as information on T-shirts and other fan information on DA and The Choir, write to DA/Choir Tour, P.O. Box 26704, Santa Ana, CA 92799 and information will be promptly sent to you.


---
DA SIPPING TEA IN C.S. LEWIS'HOUSE!

It was West meets West when DA spent two weeks in Europe last summer making back-to-back appearances at Holland's Flevo Festival and Greenbelt '85 in England.

By all accounts, the week in Oxford in between festivals was well-spent sight-Seeing, eating, and eating. One highlight of The scholarly sojourn was an impromptu visit To the Kilns, home of C.S. Lewis for over 30 Years. Lewis, an esteemed Oxford Don, Wrote many of his best-known works at the Kilns, including The Narnia Chronicles.

We set out for the Kilns on what we thought was a warm, sunny day, but an unexpected rainstorm soon put a damper on things. A cheery, typically-British looking man politely showed us the way to Lewis' house, however, and we continued the hallowed trek rather wet but still determined.

Uncle Terry had boned up on Lewis before The trip, and unselfishly offered his services as official tour guide. Along the way, he shared his wealth of information with one and all by pointing the neighborhood inn where Lewis enjoyed hanging out and even the churchyard where he is burried. For this, we were all grateful, but due to the day's inclement weather conditions and our unfor- tunate lack of moisture-shielding devices, our spirits waned.

Still soaking wet and disheveled, we arrived at the Kilns to discover the entire house seemed to be covered in a lush, green overgrowth. The only evidence of a structure beneath the thick vegetation was a wooden sign identifying the landmark and a window. Through the window we could see a bearded man working alone at a computer terminal, A man immediately envied simply because He was dry and warm.

At this point, the best we expected was to Gape at the house from the street for awhile, Then slosh back to town in our damp garments. Our morale had reached an all-time low. Then Terry's brother, Randy, struck upon the idea of knocking on the door. Of course! At best, the man would invite us in out of The rain. At worst, he would be scared of our Appearance and tell us to go away.

Things immediately took a turn for the Better. The man invited us in and before we Knew it, we were sipping tea in C.S. Lewis' Drawing room. As it turned out, the man was An American, a Christian, and a writer (although Not necessarily in that order in that order) who Was in charge of restoring the house and turning It into a Lewis museum and Christian study center. Following tea, we were taken on a private tour of The house and shown the wardrobe that inspired The Lion, The Witch and the Wardrobe and a sofa On which Lewis friends T.S. Eliot and J.R.R. Tolkien Often sat. The sky was miraculously clear and bright When we ventured back outside to make our Way home. Our heads still up in the clouds from The morning's events, we stopped at Lewis' local pub to clear them with some Wholesome pub food and a quick game of Darts – a typically English way to spend the Afternoon.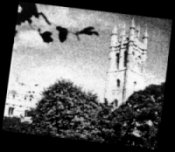 ---
UNCLE TERRYS CORNER
Dear Doppel Gang,

How the heck are you? I'm feeling kind of lousy myself. Being an honest guy, I don't mind telling you that 'despair' has me wrapped in its sweaty hands.

I know you're asking, "Hey, Uncle Terry, why such a 'Gloomy Gus?" Well, I'll tell you gang. It started off with this '700 Club' thing.
As you may or may not know, your Uncle Terry was on the 'Club' recently, and Pat Robertson wasn't even there to interview me. It was the other guy, you know, the second banana, and believe me, Ol' "Ter'-Ter" was a little upset.

Here I've got another solo album out before long, 'Vox Humana' was on the charts at number 15 in the nation, and Pat doesn't even show up! What's the problem, Pat? Didn't you like our music? Is it my breath or what?
You hate us, don't you, Pat? Come on. Admit it, You hate us and you don't want to be our friend!

The other thing That's bugging me is that D.A. isn't playing a whole bunch this year. Oh sure, we've done a Canadian tour (or "Torture Tour '85" as we have so aptly named it). And we went to England to perform at "Greenbelt," but what about the States!
You know why we don't do any gigs in the States, don't you? It's because we can't afford to do any gigs in the States!
Oh, we could come out on the road and set a few cheap lights, and plug the vocal mikes into our guitar amps and do a show like everyone else . . . but no. You people out there want towering amp stacks, and multimillion dollar light cranes, and Rock Fog, and tight sequin-studded rock pants.
Soooooo, we can't afford to do a good show and make any money ourselves. Will you give us money to do a good show? No, of course not. You're broke, too. Will your parents loan us the money? Yeah sure, they hate us as much as Pat Robertson does.
And what about all this critical acclaim we've been receiving lately: "Daniel Amos is the cutting edge...,"Vox Humana is the album of the year...," etc., etc.... So what? Who really cares? Being a neat Rock Guy hasn't put a dime in my pocket.
So here's Daniel Amos, 10 years in the business, with a critically acclaimed album, still scrounging around for a dime!

"Are we in it for the money?" you ask. 'If you're doing it for God, Uncle Terry, wouldn't you be rich and famous by now?" Well "smarty pants," I'm not going to dignify these questions with an answer. Besides, I don't have the time or even the space here, just like I don't have the time to answer all of your letters, gang. I'm sorry, I really am, but there are just so many of them. I read them all, and I appreciate them beyond words. So please keep writing because really, I Iove you and your letters, even though you don't have any money either.

I'll leave you with a poem by W. B. Yeats because it reflects my mood and because 1 know by your letters that you're a literate group that probably only watches T.V. twelve hours a day.

In Christ, Uncle Terry

"Things fall apart,' the center cannot hold...
... The ceremony of innocence is drowned;
The best lack all conviction, while the worst
Are full of passionate intensity

Surely some revelation is at hand;
Surely the Second Coming is at hand..."


---
DA QUIZ-A-ROONI
1. Who is the unidentified man on the right side of the Vox Humana front cover?
2. Which song on Doppelganger was inspired by Terry's dog Holland?
3. How many children does Ed McTaggart have and what are their names?
4. Who is the unidentified man on the cover of Fearful Symmetry?
5. What will be the title of the next DA album to be released in mid-1987? (Clue: the title can be found in the album liner notes of Fearful Symmetry)


True or False
6. Terry Taylor changes his guitar strings once a week.
7. Since 1977, there have been 26 personel changes in DA, and at one time even Rob Watson's shorter, less-interesting cousin was in the group.
8. The man on the cover of Fearful Symmetry was at one time manager of the Oakland A's Baseball team.
9. Tim Chandler's bass speaker cabinet looks like the roof of one-time DA road manager Leo Sorrentino's Monte Carlo.
10. Members of DA personally know the accused suspect of the 1985 "Hatchet-Murder" case in Oxford, England.


Multiple Choice
11. Tim Chandler is best known for his
....(a) five years in DA
....(b) spot gigs with Randy Stonehill and the Choir
....(c) role as Herman Munster in the 60's TV show, "The Munsters"
12. Johnny Jacobs' trombone once belonged to
....(a) Glenn Miller
....(b) The Beatles
....(c) Leon Redbone
13. Greg Flesch once
....(a) played with James Brown
....(b) competed in the Olympics
....(c) while driving the famed DA bus at night, mistook an M&M for the high beam button

Answers in the next DA newsletter!

---