Concert Roars with the Swirling Eddies Eddies and Stonehill
by Mark Joseph
The Chimes March 16, 1990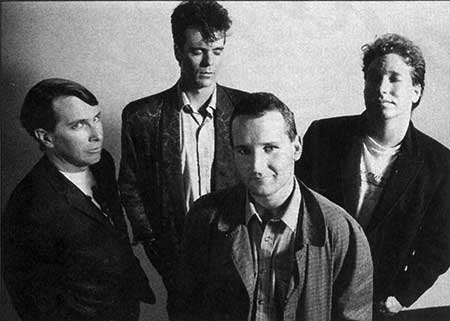 Biola's social board coordinator Steve Porter was expecting a normal sized crowd for last Friday night's concert at Chase Gymnasium –which in Biola's case means 500 people, 600 tops. What he got instead was a jam-packed crowd of enthusiastic fans who had come to see one of today's hippest, 'artsiest' bands open for one of the founders of Christian music.
In addition to the GAG couples and the chickens who couldn't get up the courage to ask anyone, there was a sprinkling of who's who in Christian music throughout the audience. In the back was singer/musician/engineer extraordinaire Mark Heard diligently taping Stonehill's music for an upcoming live record. In the audience among others, were Cindy Cruse of the Cruse family, Sandi and Heather Stonehill, Frontline recording artist Rick Elias, and Frontline execs Mike MaClane and Tony Shore.
The Swirling Eddies, formerly DA, Da, and Daniel Amos, opened up with their eclectic mixture of dance/punk/new wave rock and roll. Their concert attire was the usual stuff, form fitting skirts and bathrobes, the former of which were probably intended for females.
I confess I lost these guys sometime after 1976 when the song "Shotgun Angel" made you proud to be a Daniel Amos fan. There were a few "Eddies" in the audience though, most notably a few who danced circles around the gym and convulsed on the floor, but for the most part the audience reaction seemed to be polite at best.
The Eds did manage to connect on two songs though. "Let's Spin" saw a fair share of audience members doing the spin, while "Hide the Beer The Pastor's Here," a cult favorite, found some singing along.
Other tunes included "I've Got An Idea," and the group's first number one hit "Driving in England." When the band's set was over, the audience broke into applause that didn't seem to be aimed at an encore.
After a 30-minute intermission, it was Stonehill's turn to try his blend of eccentric humor and gritty music via an all acoustic set. From the opening guitar strains the 20-year veteran rock and roller won over the audience with his acoustic renditions of classic Stonehillian cuts like "King of Hearts," "Good News," "Hymn," and "Shut De Do."
For the more recent Stonehill fan there were several cuts off of his latest record "Return to Paradise," including "Stand Like Steel," and "Starlings." Unlike the opening act, Stonehill was called back for an encore by an obviously appreciative audience, and the artist responded with among others, the cuts "Turning 30," and the energetic "What Do You Want From Life," off of his "Wild Frontier" album.
Although some expressed disappointment at the Swirling Eddies performance, while others professed to have been stumbled, generally the reaction appeared to have been positive to the concert as a whole. Coordinator Porter was particularly delighted at the great number of off campus people who showed up. "I was happy to see them because it gives them a chance to see what Biola is all about," he said.
As for the long delays before and between shows, Porter said he was unhappy but placed the responsibility on his and his staff's shoulders.
From many standpoints this was probably the most successful concerts in recent Biola memory. Certainly it was from a financial and turnout standpoint. The one faux pas may have been the combination of Stonehill and the Eddies whose fans tend to be poles apart in musical tastes. For an Eddies fan the Stonehill show may have been a drag and vice versa.
Hats off to Porter and all the others who worked hard to bring this show about, and kudos to the artists who rejected Russ Taff's philosophy of selling T-shirts for $22, charging a measly $12 for their T's.
---