Daniel Amos
Caught in the Act
By Red Squirrel Flying
CCM Magazine July 1981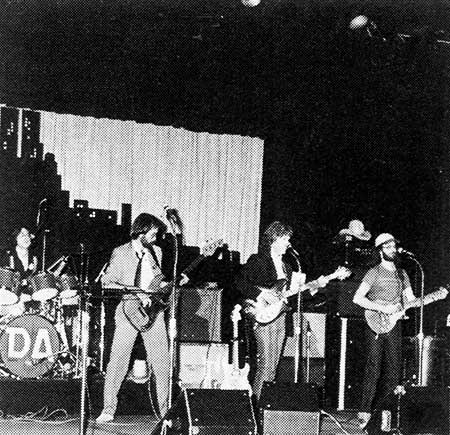 The Vancouver, BC crowd was feeling UP for DA. With the Orpheum Theatre closed by a strike, Anvil Productions chose St. Andrew's Wesley Church for the venue, its huge stained glass window a backdrop to the raised stage straddling the altar. Get out the rock 'n' roll hymnals. Turn to Alarma Tour '81.
Daniel Amos ran through tight, tastey, energetic versions of "Alarma," "I Love You #19," and then machine gunned into "Through The Speakers." Terry Taylor's riveting vocal textures stuttered out "Jesus says he loves you/through the speakers!" Cameras flashed to capture the moment.
The new DA is an electrified musical adventure – no two tunes are the same. They followed with "Hit Them (With Love)," stressing "live what you say" in a rolling style. Terry then read from the Bible about the power of the tongue. He encouraged us not to pass on rumors, and to work things out with people. Hard stuff to take lightly.
The band flowed through "Fallen Down," and into their country tune "Happily Married Man, " with Marty sleeping on bass, and Jerry trying hard to introduce a lead solo into the tune. Next they played the devil's advocate with "Big Time/Big Deal," a new wave satire. After "Walking On The Water," Terry took us to the beach with the DA version of the old hit "Wipeout." He and Marty danced this one, with Marty windmilling his bass and chopping chords. The boys all came up on the stage edge for a back-to-back "guitar stack." The changed pace mid-song and cut into their own "Endless Summer," looking for an eternal tan.
The air was cut by decorated rolls of toilet tissue streaming over the band from both sides… lit by the red lights. An air horn blasted out defiantly during the applause. The crowd had fun. DA rocked on into "Faces To The Window," "Ghost Of The Heart," and "Walls Of Doubt," with Ed pounding out strong rhythms and strong visuals from Jerry. What Terry had to say between some songs really ministered, but then the concert was officially over.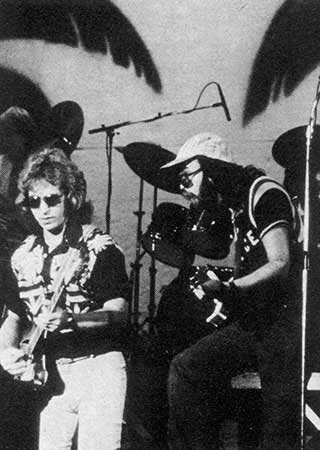 But wait… the sharp, unison clapping brings on an.. encore! The DA rock opera returns with the now famous, "You can't run you can't hide from the hound of heaven." Lights projected a shadow drummer on the side wall. The music is in sensurround and the Seeker of Souls passes through the croud. Terry then shared about the first song the group ever did, titled, "Ain't Gonna Fight It." They ended with this piece of musical history smoothly rollin' along… amid cheers and applause. DA waved and left the stage. They were edifying, ministering and entertaining. The band members appeared out front to talk with fans after the show.
What a night… without adventurers like these, music could get boring.
---