The Swirling Eddies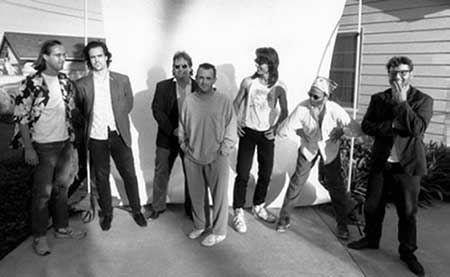 The Swirling Eddies are:
Camarillo Eddy (Terry Taylor) - Guitars, Lead Vocals
Spot (Jerry Parker Chamberlain) - Lead Guitars, Vocals
Hort Elvison (David Raven) - Drums
Gene Pool (Greg Flesch) - Lead Guitars
Berger Roy Al (tim Chandler) - Bass
Arthur Fhardi (Rob Watson) - Keyboards
Prickly Disco (Gene "Eguene" Andrusco) - Guitar

Guest Eddies
Jeb McSwaggart (Ed McTaggart)
Mary Baker Eddy (Sharon McCall) - Vocals
Miracle Babe (Riki Michele) - Vocals
J. Peter Braun (Jimmy P. Brown) - Vocals
Mike Roe (as Himself) - Guitars on "Baby Baby"
Miss Smelt Roe (Jerry Chamberlain) - Vocals on "Baby Baby"


Booking information:
Contact Jonathan T. Feavel (JT) at
Warm & Filled Mgmt.
325 Busseron Street
Vincennes, IN 47591
812.886.9230 (W&F offc)
812.881.9391 (W&F cell)
Or email JT @ JT@DanielAmos.com



The Swirling Eddies began as an anonymous collaboration between most of DA and new drummer Dave Raven. They adopted pseudonyms and various alter-egos and blasted onto the scene in 1988 with Let's Spin. Camarillo Eddy (Terry Taylor), Burger Roy Al (Tim Chandler), Gene Pool (Greg Flesch), Arthur Fhardy (Rob Watson), Spot (Jerry Chamberlain) and Hort Elvison (Dave Raven) transformed DA's experimental, intellectual art-rock into hilarious, good-time party rock'n'roll complete with an outrageous stage presence (they played Cornerstone '90 in DRAG!!!) and funky, danceable rhythms. 1989's Outdoor Elvis became an instant classic and is still considered as one of the most underrated albums of the 80s.
Upon closer inspection, the Eddies were really not that much of a departure for Terry and the boys, who had always exhibited unbridled energy and side-splitting wit into their music, but after Darn Floor, Big Bite, their finest effort to date had failed miserably on a commercial level, the band decided to regroup and put some new fire in their bellies. The Eddies provided an avenue for a broader audience to become familiar with the band on an entirely new level. A level beyond the reputation DA had acquired as one of the most controversial bands in the history of the universe!

After a short stint as DA again, the Eddies recorded Zoom Daddy in 1994. Somewhat of a departure for them (they recorded under their real names, without much of the novelty atmosphere associated with the earlier material), Zoom Daddy boasts some of Terry Taylor's finest work as a songwriter.
This record will still be ahead of it's time and under appreciated ten years from now.

Their label released a "best of" compilation (The Berry Vest of the Swirling Eddies), in 1995 which included one rare track and two new acoustic songs by Camarillo Eddy.

The Eddies have just completed a wacky new record for StarSong entitled "Sacred Cows", a loony parody/tribute album to some of CCM's finest/worst tunes. The Eds send up Carman, DC Talk, DeGarmo & Key, Amy Grant and many others on this completely bizarre and hilarious record. Joining the boys this time around is a new as yet unnamed member who reportedly plays guitar and bears a striking resemblence to Mike Roe. Must be his brother or something.



---
CAMARILLO EDDY
Camarillo Eddy was born, at the age of three, to several swarthy fugitive Eskimo couples. His first spoken words were, "Cheese it, the cops! "Running away with the circus at age fourteen, Camarillo (known at the time as "Karloada the Mighty Penguin Boy" because of his pasty white, soft, almost formless hands) was an instant hit at the Southern Tunisia Wild Hair Festival.
Ever the rambler, Eddy left the circus and moved to New York in 1964, where his experimentations in atonal dadaistic composition earned him a punch in the stomach from the then mayor Jimmy Walker, played by Bob Hope. "My idea was to capture collective hysteria and spells violently of that time", says Camarillo with a high-pitched grating laugh reminiscent of Monty Hall's live-in maid. Cam adjusts his hunch and continues, "Those were tough times. I lived on carpet lint and mud pies."
Eddy's musical influences changed drastically when, in 1967 on his way to, Los Angeles, he ran over the 1910 Fruit Gum Company's tambourine player, and drug him 362 miles before stopping. "I thought I might have a flat , so I got out to take a look. Here was this funny little guy with a beehive hairdo, caught in the bumper of my car. I looked into his face and he says to me- I'll never forget this as long as I live- He says 'Can we stop at a Stuckey's?' I got back in my car and drove to the very next Stuckeys, another hundred miles or so up the road. The whole experience was incredibly ethereal. It changed my life." Indeed it did! Cam began to write and record more "accessible" songs and scored a giant hit in 1968 with "The Green Berets" under the pseudonym "Sgt. Barry Sadler". A fairly successful off-broadway musical, "Midgets, Ho!" led to a lifelong friendship between Cam and Eric Clapton and, as the whole world now knows, the two went on to sing lead vocals on all of the Beatle albums. Few people know however, that during this period Camarillo originated the famous phrase "You're not the boss of me!".
In the spring of this year, Cam cultivated giant pods in his back yard and eventually the "Swirling Eddies" were born.
---
ARTHUR FHARDY
Born in Fargo, N.D., Arty was raised on a farm by his grandparents after both his father and mother were reported 'missing in action' in Vietnam. But a young Arty clearly wasn't cut out for life on the farm, as he ignored his chores and continually got into fist fights with the livestock. Deciding the boy needed a change of environment, his grandparents sent him to the prestigious Liberace Piano University (LPU), where Arty quickly distinguished himself as virtuoso.
After graduating with honors, Arty play a small part in the historic Woodstock festival, when he delivered a large pepperoni pizza to David Crosby onstage. Arty never returned to the pizza job, knowing that show business was his destiny.
In the early '70s, Arty made his way west to seek fame and fortune in L.A. He took a job busing tables, which led to a job driving a bus for the city, and finally working well-known sports entrepreneur Jerry Buss. Turning his energies to acting, Arty acquired an agent named Jimmy the Armenian, who landed him a gig as David Carradine's stunt double in the hit series "Kung Fu". After the show's cancellation, Arty won a regular part on "Little House on the Prairie" until Michael Landon reportedly grew jealous of his hairdo and canned him. Soon after, his agent was imprisoned for tax fraud, extortion, and carrying a concealed weapon in his beard. Agentless, Arty became disillusioned with acting and went into a self-imposed exile.
On a whim, Arty agreed to act along with another struggling thespian, Camarillo Eddy, in a low-budget expose of the Orange County Christian Music Scene. This modest venture proved an historic moment however, for when the Eddies formed a few years later, Arty was asked to join the group. Although his is repeatedly mistaken for Peter Fonda, Arty remains the quietest member of the group due to a chronic case of laryngitis.
---
BERGER ROY AL
As the son of stern missionary parents, Berger is familiar with both the joys and the hardships of the "road". His German parents' dedication to their calling took the family around the world, with long stops in Zaire, New Guinea and the French Riviera. Berger remembers the French as being particularly hard to get along with.
Playing bass was not Berger's first foray into the sometimes serious, sometimes zany world of music. Young Berger became something of a prodigy when he started taking flute lessons at the insistence of his militaristic father (who harbored a life-long fear that his sideburns would someday grow out of control and cover his entire face). Berger was eventually asked to sit in as a guest flutist with the Berlin Opera. Always the prankster, Berger would often anger stuffy opera-goers by throwing in a dissonant note or two during the final movement of Das Fledermaus.
His woodwind career was brought to an abrupt close however, when he caught his lips in the spokes of a ten-speed bicycle while training for the Tour de France.
In the 1960's Berger earned a reputation as a musician's musician by playing in over 600 bands, sometimes appearing to be in two places at exactly the same time.
In 1976, Berger and his life-long collaborator/friend Lenny Wagonmaster wrote a song Elvis reportedly wanted to record until an aid pointed out the lyric "All you need is love and a big bucket of chicken" to the King. (The song eventually ended up on a side of a Led Zeppelin double album.)
Roy Al now lives quietly in a suburb of L.A., where he splits his time between denying involvement in the Bay of Pigs invasion and adding to his substantial collection of ancient Babylonian pottery.
---
GENE POOL
Gene Pool is the first of a long line of test tube babies, gestated in he third series of xanthum oxide compounds (chewing gum rust). When he was a young boy of two, living in Hoboken, Gene won first place in a national "name that germ" contest. He was awarded a lifetime supply of specimen jars and an electric guitar .His guitar playing was soon good enough to prompt Camarillo into drafting Gene into the Swirling Eddies
Pool's fluid style of guitar playing has earned him the nickname "Slime Ball" and when he's really cookin' before a live audience, Gene has been known to leave glistening snail-like tracks on the stage floor.
Gene makes his home in the swamp-not by or near the swamp,but actually in the swamp! The Eddies are planning several live appearances at Sea World this year where Gene's gill-like appendages will allow him to do some amazing aquatic tricks, adding an exciting new dimension to the band's live act.
---
SPOT
Little is known about the man called, simply, "Spot" and he, perhaps, will always remain an enigma to the rest of the members of the Swirling Eddies as well as the fans. A reclusive man of few words, Spot refuses to talk about his past, hinting only that "Ruth Buzzi was and still is a big part of it". That's all anyone knows.
---
HORT ELVISON
Hort comes from a long line of show business people. The son of Bruno and Clara Elvistein, a Viennese mime team who fell upon hard times when without warning, Bruno became convinced he was Billie Holliday, young Hort spent his adolescence touring Europe in an early incarnation of "Up With People". But the road was a harsh mistress and things were never easy for Hort and his compadres. Too poor to afford a whole hotel room, they had to take turns sleeping upright in a closet, sublet from a Lithuanian poultry merchant named Donny.
Things began to look up when Hort shortened his last name to Elvison and moved to Los Angeles. By day he worked breeding oscelots and at night he played in a group called the Sleeping Walkers, an existential polka band fronted by a set of identical, narcoleptic triplets named Walker.
They achieved a measure of success until the lead singer met with a fatal accident after falling asleep on a Slip-n-Slide. The band folded. Despondent, Hort practiced his drums alone in his room for years, reading pamphlets like "Horticulture and the 17th Century Church" and consuming vast quantities of "Moon Pie" marshmallow sandwiches. And then fate intervened.
Hort knew it was an omen when he opened the South El Monte Weekly Shopper and read "Atmospheric, Neo-Motown, Zydeco, pre-CBS psychedelic country surf, blues band with its own van seeks sensitive, intellectual drummer with Master's degree in biochemical engineering. No flakes." Of course it was what would soon become the infamous "Swirling Eddies".
Singer Camarillo Eddy remembers Hort's fateful audition: "I knew instantly that we'd found our drummer when Hort came right up to me and hit me in the face, without saying a word. And when I noticed the tapioca pudding seeping out of his coat pockets, well, that was it."
Hort's intimidating presence and striking physical resemblance to Peter the Great (before his surgery) have made him an irreplaceable part of the Eddies' saga.
---
PRICKLY DISCO
Achmed Disco, the son of Jewish immigrants, was born in Dublin in 1901. He acquired his nickname, Prickly, at the age of 4, when he was sent home from the Heritage USA pre-school for having five o'clock shadow.
He became a household name in the mid-seventies when he brought a five million dollar lawsuit against Nipsey Russell for plagiarism. Prickly contended that a poem Nipsey recited on Match Game '76 ,entitled "Hemmorhoidal Tendencies" was actually based on some verse of his own entitled "Press this cluster and make me wine". He lost the case but was hired by Don King to write poetry for Mohammed Ali. This began Prickly's illustrious career in show business which culminated last year by becoming the seventh member of the Swirling Eddies.
Camarillo was filming a PBS documentary in Nepal of the social habits of the Uruguayan fruit fly when he received a phone call from former band manager, Morty Allen,Jr. Morty excitedly reported that he had found another member for the band and that this one might even have some talent. Camarillo dropped everything and hired a small fishing boat to bring him to Hollywood, where he interviewed young Achmed for an opening in the Eddies lineup. Prickly leaped headlong into the audition by performing some minor surgery and reciting the entire Gettysburg Address during a single belch. Camarillo got pretty excited, but the Jackie Mason impersonation was the clincher. As everyone knows, Camarillo Eddy is a connoisseur of "Borsch Belt" schtick.
Prickly was in and the rest is music history.