Daniel Amos
30th Anniversary Deluxe Edition!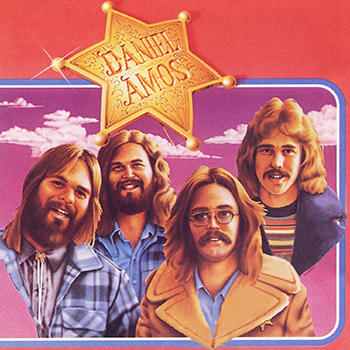 "Daniel Amos" 30th Anniversary Deluxe Edition features DA's entire first album which has been newly remastered, plus "Happily Married Man" from Maranatha! Country Roundup and "Aint Gonna Fight It" from Maranatha! 5

This deluxe reissue also includes an expanded booklet featuring lyrics and never-before-published photos from the Daniel Amos archives. Also included is an entire CD of Terry Taylor's audio liner notes about the bonus tracks, and over 20 previously unreleased bonus tracks from the days leading up to the formation of Daniel Amos and the early days of the band. For the first time ever, the listener gets to hear performances from Terry's early bands Good Shepherd, Judge Rainbow and the Prophetic Trumpets and, the band that evolved into Daniel Amos, Jubal's Last Band.

For REVIEWS, visit THIS REVIEWS PAGE
For LYRICS and other information, visit THIS ALBUM INFO PAGE



---
EXCLUSIVE DOWNLOADS!

---

Visit THE DA WEBSTORE to purchase this 2 CD release now, or
Send a check or money order
for $20 (per CD) + $1.50 shipping and handling
(payable to "DanielAmos.com") to:
DanielAmos.com
1939 Wentzville Pkwy, PMB #301
Wentzville, MO 63385-3424

Visa, Mastercard, American Express and Discover accepted at this time.