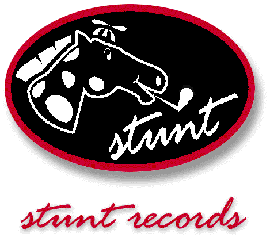 [ Visit DanielAmos.com
Swirling Eddies | Lost Dogs | Terry Taylor ]

[ Loam | Eve Selis | Quotes | Essays
Alarma Chronicles text
Essays |Links |Secure Webstore] [ DA Message Board | NEWS! ]

---

Welcome to the Stunt Records
Home Page!
Stunt Records is an indie label started in 1990 by Terry Taylor (Daniel Amos, SwirlingEddies, Lost Dogs) and Tom Gulotta. Webmasters Jason & Eric Townsend joined the organization in 2000. The original vision of the label was to re-release the older Daniel Amos records on CD and to put out special collector's item releases of live bootlegs and unreleased demo material. Over the years we've grown and expanded the vision to include Terry's new music and we've begun signing new bands wefeel are like-minded and represent the spirit of the label in their commitmentto originality and artistic integrity.
---
A history of Stunt Records releases:
1. Daniel Amos - "Live Bootleg '82" - 1990
2. Daniel Amos - "Alarma!" - (CD reissue w/3 bonus tracks) - 1991
3. Daniel Amos - "Doppelgänger" - (CD reissue w/3 bonus tracks) - 1992
4. Various Artists - "No Sense of History" - 1992
5. Various Artists - "Shirley, Goodness & Misery" - 1992
6. Daniel Amos - "Motor Cycle Tracks" (CD promo) - 1993
7. Terry Scott Taylor - "Knowledge & Innocence" (collector's edition signed& numbered by Terry) - 1993
8. Daniel Amos - "Preachers From Outer Space" (live recording from 1978 w/4bonus demo tracks) - 1995
9. Loam - "Stereoscopic" - 1996
10. Terry Scott Taylor - "Ten-Gallon Hat" Six-song E.P. - 1997
11. Eve Selis - "Out On a Wire" - 1998
12. Eve Selis - "Into the Sun" - 1999
13. Eve Selis - "Long Road Home" - 2000
14. Terry S. Taylor - "Imaginarium" - 2000
15. Daniel Amos - ''The Alarma! Chronicles Book Set'' - 2000
16. Daniel Amos - ''Mr. Buechner's Dream'', with Galaxy21 Music - 2001
17. Daniel Amos - ''When Everyone Wore Hats'' - 2002
18. Terry Scott Taylor - ''LITTLE, big'' - 2002
19. Dr. Edward Daniel Taylor - ''The Prickly Heat Radio Players'' - 2004
20. Daniel Amos - ''Live in Anaheim 1985'', DVD - 2004
21. Dr. Edward Daniel Taylor - ''The Perfectly Frank, True Story of Christmas'' - 2005
22. Terry S. Taylor - Imaginarium: Songs from the Neverhood'' - 2005
23. Daniel Amos - ''The Making of Mr. Buechner's Dream'' DVD - 2005
22. Daniel Amos - ''Daniel Amos'' 30th Anniversary Deluxe Reissue - 2006
23. Daniel Amos - ''Instruction Through Film'', DVD - 2007
24. The Swirling Eddies - ''The midget, the speck and the molecule'' - 2007

---
All information copyright © 1996, 1997, 1998, 1999, 2000, 2001, 2002, 2003, 2004, 2005, 2006, 2007 Stunt Records
webmaster: audiori@DanielAmos.com Stunt business e-mail: tomg@slammsd.com


You are Visitor No:


since March 15, 1999

(14883 people visited the original Stunt Website
between May 1, 1998 and June 5 1999)