Named "San Diego's most inventive and promising young rock band"
by San Diego Magazine, Jan. 1997.
---
The Dirt on LOAM

As their cryptic name implies, Loam is a band that defies easy categorization. A band that refuses to be pinned down, boxed in, or labeled in any way. Yet, for the sake of this biography, we'll do our best. Imagine the lyrical poetry of the great folk songwriters, the killer hooks and harmonies of the great '60s pop/rock groups, and the raw, unbridled energy of the great alternative rock bands. We're getting closer. A band that revels in diversity while creating a sound that's uniquely their own. Intent on making modern music while honoring the great musical traditions of the past. A band that can play all electric at a club on Friday night, and strip down to an acoustic act for a café show on Saturday night, without losing anything in the translation. OK. You get the idea.

Loam was conceived in the Spring of 1994 as a seed in the minds of Frank Lee Drennen [vocals, guitar], a hard working solo Folkie, and his roommate, Chris Pacilio [guitar, vocals]. Frank had spent a summer as sideman for ex-Alarm guitarist, Dave Sharp, and been a member of two acoustic duets ("The Homer Gunns" with Byron Nashe and another with John Katchur) but, at the time, was taking his solo act to coffee shops and cafés around San Diego. Chris had played with a number of punk and alternative bands including Cheese Shoppe, with future Loam bassist Clark Stacer [bass, vocals]. These two talented musicians then hooked up with Stacer, who was working with local blues great Robin Henkel. After a few gigs as a trio, Trace Smith [drums] (of The Shambles and Buick McKane) was called in for the band's first and only drummer audition. The four of them spent the next week and a half writing new material and arranging some of Frank's solo music into full-blown band songs before playing their first full band show.

San Diego's pseudo-Seattle grunge scene was knocked on its collective behind when Loam brought their fresh, earthy sound to the clubs during the summer of '94. During that first year, Loam played venues such as the Whiskey in L.A., the Belly-Up Tavern, SOMA Live, the San Diego Coach House, and the Casbah. They opened twice for Warner Brothers recording artists The Williams Brothers, and appeared numerous times on 91X Loudspeaker, 92.5 The Flash's Local Band Spotlight and 95.7 KUPR's Locals Only.

In September of '94, a mere three and a half months after the band's formation, they recorded their first CD MEGA . This 7-song EP, recorded live at Club Megalopolis, captured their young talent and raw emotion in a very honest and compelling manner.

During the Spring of 1995, the band hired a brilliant young engineer and began recording their first full-length project, Stereoscopic, in their turn-of-the-century apartment in downtown San Diego.
Loam was honored by the San Diego Music Awards during the summer of 1995. They were nominated in two categories: "Best New Artist" for the band as a whole and "Best Local Recording" for MEGA. In the fall of '95, the San Diego Union-Tribune hailed them as one of the top 10 up-and-coming bands in San Diego.

Stereoscopic was released March 4th, 1996 on STUNT Records, to rave reviews ( the San Diego Union Tribune gave it four stars, their highest rating!), great college and local radio airplay, and enthusiastic support from fans and industry insiders alike. Their CD-release parties at Brick-by-Brick and Java Joe's drew over 500 people.

The summer of '96 proved fruitful as Loam played showcases in L.A. and San Diego for major label A&R reps and was once again nominated twice by the San Diego Music Awards, this time for "Best Adult Alternative Band" and "Best Local Recording" for Stereoscopic, which they won. In August, 95.7 KUPR, San Diego's commercial Adult Alternative station added their single "Spellbound" into regular rotation. This past year they've opened shows for Graham Parker, the Figgs, Low, The Connells, Ashley MacIsaac, the Low & Sweet Orchestra, and the Rugburns.

As for the future, Loam plans on some slow steady growth over the next few months. The priorities are: deepening their roots, widening their audience. attracting some national attention and promoting their new record. From there the sky's the limit. They'll just keep on watering and see what grows.

---


Our new sticker!! Get it at our shows!
---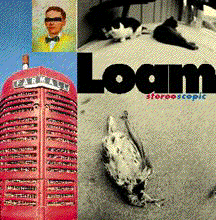 cover art for the new Loam release "Stereoscopic"- STUNT - March 4. 1996
---
Upcoming gigs
Every Wednesday night— The Ould Sod, 34th & Adams, (Normal Heights) 8pm; 21&up

Call us for more info. Hotline—619-515-HICK.
---
Reviews

SLAMM Magazine- Feb. 21, 1996
***
Loam's new release, to quote the back wall of Java Joe's, ROCKS! these local favorites have managed to create an album that is both lyrically and musically solid. Each of the eleven tracks showcase various facets of the band, giving the listener a joyride through the many landscapes of folk rock. From the opening promise of "Love without expecting..." in "Love Without Fear" to the closing sentiment "...In our hearts we can fly", Loam delivers the fully human experience of love and loss suffered by those brave enough to live it.
Musically, Loam benefits from a pumped up sound with the addition of harmonica and Hammond organ on several of the tracks and the results are winning. Check out this great work by one of San Diego's better bands and then get yourself out to their next live show, where you are sure to be dazzled and delighted.
—Tami Rapozo


The San Diego Union-Tribune, Night & Day, Mar. 21, 1996
****(highest rating)

Homespun harmonies and mood-dripping guitar licks rally around Frank Lee Drennan's vocals on this shimmering, melodic offering- a master stroke, really- from El Cajon's very own.
Drennan's harmonica bolsters the already obvious Neil Young influences: lap steel guitar and piano, mournful ballads and guitar fills to kill for.
Also apparent throughout is Loam's fascination for sweet harmonies and Beatle-esque pop arrangements. But it's the Fab Four as seen through the likes of Crowded House ("Love Without Fear"), Squeeze ("Moonflower") or Matthew Sweet ("Spellbound," "Desperate Means").
The feel of open country permeates these glimpses of Americana, but so does a sense of longing, a loneliness from which there's no escape.
Ben Moore's flourishes of Hammond organ and Wurlitzer electric piano complete Loam's swirling, near-liquid landscape, which includes the haunting, ethereal and captivating instrumental "Porcelain"- presented delicately on the strings of a lap steel.
—James Healy


Click here to go to the band's own home page: http://www2.connectnet.com/~loamfan/index.html

Want to see some cool pictures of our CD-release party? Click here