Welcome to the official home of Daniel Amos, Terry Scott Taylor and the Swirling Eddies!
Social Networking Sites & Music Samples:
Terry on Facebook.com
Terry @ MySpace.com
Terry @ Shoutlife.com
Terry Scott Taylor @ last.fm.com

DA @ MySpace.com
DA @ Shoutlife.com
DA @ last.fm.com

The Lost Dogs @ MySpace.com
The Lost Dogs @ Shoutlife.com
The Lost Dogs @ last.fm.com

The Swirling Eddies @ MySpace.com
The Swirling Eddies @ Shoutlife.com
The Swirling Eddies @ last.fm.com

Catch Terry Taylor on Tour! (July 4th - August 2nd, 2009)
You are cordially invited to spend a rare and intimate evening of story and song with Terry Scott Taylor. Joined occasionally on stage by special guest Steve Hindalong and Terry's son Andrew, and armed only with a guitar and his incredible collection of hats, audiences will discover the real Terry Taylor. For more information and schedule, visit our Concerts Page.
The Swirling Eddies the midget the speck and the molecule
NOW SHIPPING! The Eddies' first new album in ten years!

"Layer after layer, you'll find more and more to love here, so if you're ready to experience something beautifully different, give the Eddies a spin. Chances are you'll enjoy the ride." - Jeffrey Patrick Lemarr, Infuze Magazine

"The Midget, the Speck and the Molecule is extraordinary, easily one of the finest albums of 2007." - Andre Salles, TM3AM.com

Woaahhh Nelly!
Darn Floor Big Bite
The 2 disc Deluxe Edition!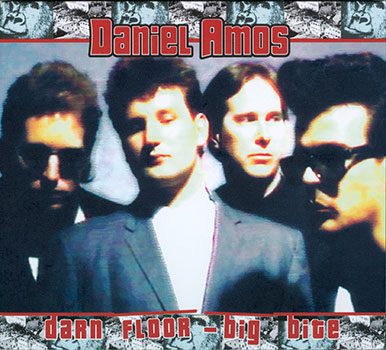 Now available from Stunt Records and the Arena Rock Recording co.!
The classic album that remains the favorite among many DA fans is finally returning to CD! This Deluxe 2 disc Edition includes new artwork & packaging, 20 pages of liner notes and photos, a brand new interview with Terry Taylor, remastered audio and never-before-heard bonus material! Keep watching for further details!

Songs include: Return Of The Beat Menace, Strange Animals, Darn Floor - Big Bite, Earth Household, Safety Net, Pictures Of The Gone World, Divine Instant, Half Light Epoch & Phase, The Unattainable Earth, The Shape Of Air, and more!
---

NeverhoOd Soundtrack CD, Imaginarium on Sale Now!
Terry's soundtrack to the Neverhood, Boombots and Skullmonkeys is now available in a Deluxe 2 CD package with brand new liner notes and artwork by Douglas TenNapel!